2
minute read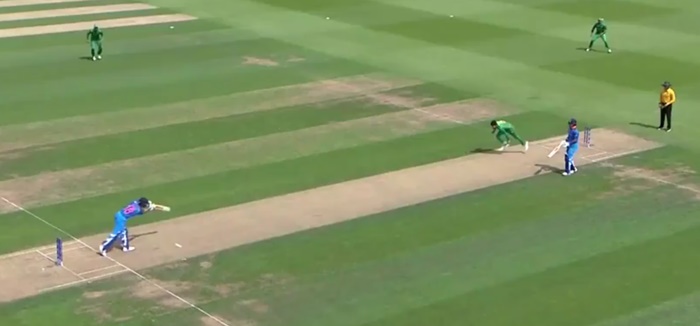 The ICC rankings are a much-maligned attempt to derive some sort of meaning from the international cricket schedule. However, it strikes us that they no longer answer the question for which they were devised.
Who's the best in the world? We now have three different answers: the best Test side, the best one-day international (ODI) side and the best Twenty20 international (T20I) side.
This is all well and good – cricket is a sport more or less defined by the varied challenges confronted by its players. However, the time pressures resulting from this weighty fixture list has left each of the formats – and therefore each set of rankings – subtly diminished.
Take England for example
In recent years there has been a change of priorities, such that England players with Test potential are now less likely to be groomed for that format if they are already key members of the limited overs squads. Given a choice between gaining first-class experience or playing the IPL or international short format cricket, the former generally loses out.
The upshot has been a stronger 50-over side and a stronger 20-over side, but a Test team shorn of at least a couple of players who could have made the grade given more long format experience.
The Test team was recently defeated by Australia, whose coach subsequently pointed to tiredness as a reason why many of his players underperformed in the one-day series that followed.
Australia prioritised the Tests and won them; England prioritised the one-dayers and won them. Similar stories play out on every single modern tour. Every nation is to some degree compromised by the schedule and results are always to some degree shaped by the participants' respective priorities.
An overview
To get a clear picture of which nations are good at cricket and which are shit at cricket, it's necessary to look at the broader picture.
This is how the idea of the format-spanning points system came about. It didn't catch on, but it was basically an attempt to draw things together and make everyone care about all three formats.
We thought it would be instructive to take a similar approach and combine the ICC rankings.
Same as with the points system, Tests are worth double because it's a two-innings game.
How did that pan out then?
Well it ended up with everyone in almost exactly the same order as in the Test rankings.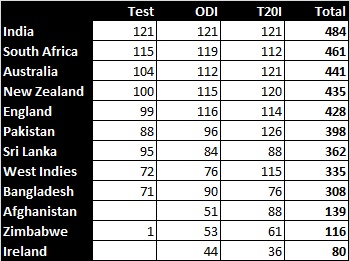 The conclusion we draw from this is that combined rankings actually work quite well.