Mitchell Johnson contributed some extremely interesting cricket and you can't ask for much more than that from a player. Overall, his record is very good, but that long-term-very-goodness was created by opposing short-term extremes.
At his best, Johnson was as exciting to watch as pretty much any cricketer ever. If your team was playing against Australia, you may not have enjoyed the spectacle, but you can't say it didn't raise the heart-rate. It wasn't so much the pace, as that sense that the entire match could be decided in short order.
Set against that, his worst was comically dire. This is of course just as entertaining and therefore, in our eyes, every bit as worthwhile. Friend or foe, Johnson will be missed.
Where's the ball gone?
If there's a lesson to be gleaned from the impact of Good Johnson, it's that even in its purest form, fast bowling isn't all about pace – it's about reaction times. Ed Cowan helps us understand this with an account of what it was like to face him.
"He rocks back after the familiar rhythmical approach, and then it seems you wait an eternity for the ball to be launched towards you. An ever-so-brief moment of panic can sweep across you as you realise he has let it go but you have not picked it up until the ball is halfway down.

"There is certainly some luck involved in getting through those early exchanges – if one delivery is on the money, your day can be over before it really begins. So much of the advance information gained by batsmen about the length of a delivery vanishes when the bowler possesses such an action."
You can get half an idea of what he means by watching this video comparing the actions of Mitchells Starc and Johnson.
At this point, Johnson's bowling arm is already down and the ball is well on its way to being released…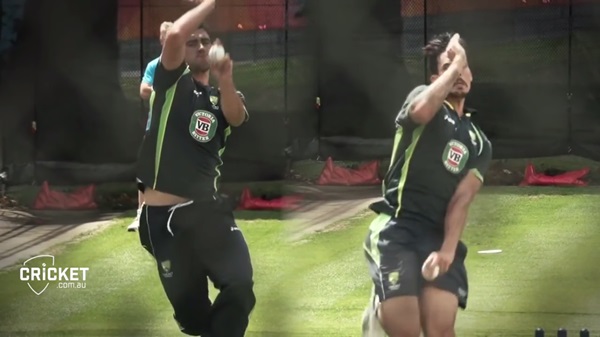 … but yet the two bowlers release the ball at (almost) the same time. As Cowan says, there's almost a pause when the ball's behind Johnson in his delivery stride; a coiled-spring moment that gives the batsman a split second to ponder what's to come and also denies him the rhythm he needs to react properly.
Starc is the archetypal thoroughbred fast bowler. Johnson was the Whangotron 9000. For all that a smooth, languid bowling action might be more aesthetically pleasing, in many ways the Johnson method presents more of a threat.