3
minute read
Dandy Dan writes:
The day started well. I got married.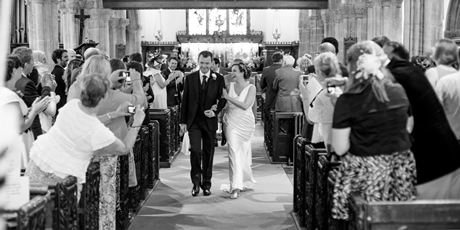 Once that was out of the way, the serious matters of the day came into view. I've been to a fair few weddings over the years and in most, I've found there to be a 'lull' at some point. Eager for this not to affect my own wedding, I asked The So Called Will to borrow a Kwik-Cricket set from his school and to organise a game.
The rules were established. Each batsman had one over to score as many runs as possible. Five runs would be deducted for each loss of wicket. Being the Groom, I went first.
Things started well. Will was bowling to me in a repetition of school holidays circa 1987-1995. A loose, short one outside off stump allowed me to execute a glorious back foot cut over Price's head for four.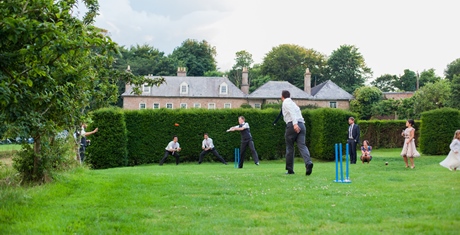 The next ball was flicked off my hips for an agreed two. A drive through mid-on brought four. Will was not enjoying this trip down memory lane. He focused on line and length. The right thing to do, but against a batsman in this sort of form, pointless. He was dispatched for a disputed six over his head.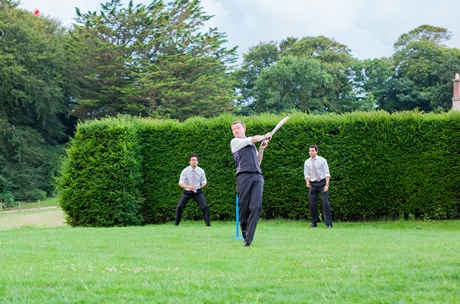 Another cut brought a further four with a solid block ending the over. The block was slightly exaggerated just to prove the point that I could do it. 20 runs off the over. I was pleased with that.
Will and I swapped places. I opened with some off spin. This immediately brought turn AND bounce. First two balls went straight through the gate but narrowly missed the stumps. The third brought an LBW appeal. Will insisted it was going down leg-side. Knowing there was no way he could now overtake my score (and in the interests of keeping the spirit of the day friendly) I agreed. Not wanting to show off, I finished the over with some medium-fast.
Others came and tried to better my score, but fittingly no one managed to. My new cousin Kieran (age eight) enjoyed fetching the ball for the 'grown-ups'. This was the first time I've ever found a use for a child at a wedding.
My Australian friend Kai (who had come all the way from Sydney for the event) did a pretty good job at being an Australian cricketer. He was rubbish. Mark J adopted the unusual fielding technique of biting on the plastic pint glass so he had two hands free for a catch. By doing this he had impressively kept both priorities at the top of his agenda.
Tanya got involved by first bravely adopting a position at silly mid-off and then later picking up the bat to face some of Gareth's slow-medium. Ben showed disappointing form with the ball it has to be said. Didn't see Price's innings alas, but I know he didn't score as many as me. My best man Rob was reasonably destructive with the plastic, although at one point he did hit my nephew's girlfriend with a wild pull. The ball fired straight into the side of her rib-cage. She didn't flinch. Good girl.
Inevitably, rain stopped play. However, we had to get on and have a first dance anyway so it all worked out well in the end.