2
minute read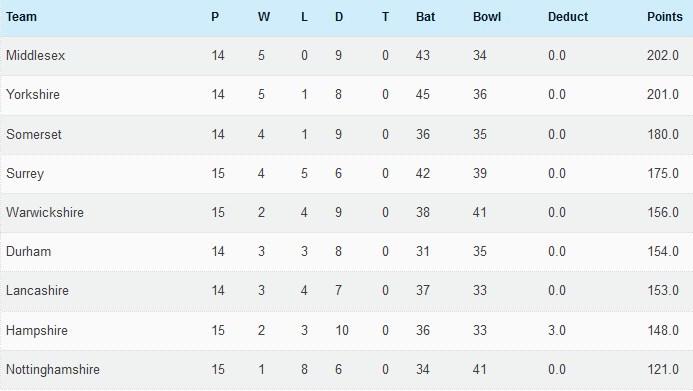 Was it a batting point or a bowling point? Was it one arising from a win, or did it come about through a draw?
The dream scenario would be for it to have come about thanks to a penalty for a slow over rate, but neither Middlesex nor Yorkshire has dawdled, so the yawning one-point chasm between them derives from cricket alone.
Nottinghamshire were relegated
We were a bit disappointed by this. It's a ridiculous thing to say, but they seem too good to have to spend a year playing in the second division. Their match against Middlesex perhaps summed up their year. Samit Patel made a hundred, Jake Ball took a hat-trick and they really rattled the top side. Afterwards, they emerged with four points from a defeat. Ollie Rayner again took wickets for Middlesex for whom most players contributed in some way or other.
Yorkshire beat Durham very much
They beat them by three points more than Middlesex beat Nottinghamshire, which is why the gap has narrowed. Alphabet-straddling AZ Lees made 132 and 88. His opening partner Adam Lyth made 114 not out and their battery of bowlers did their unrelenting thing between times.
Somerset are coming up on the rails
They played a death match against Warwickshire. No chance of a draw. It was just a matter of who could inflict most damage most quickly. Despite being bowled out for 95 in the first innings, Somerset just about walked away. Dominic Bess took six for spit on his Championship debut in the first innings. He says he bowls spin because he was a 'porker' as a kid and couldn't hack a long run-up.
Hampshire and Surrey also played
Just loads of runs really. Mark Footitt took six for plenty.
What's next?
A lot of reports are focusing on Middlesex v Yorkshire at Lord's for obvious reasons, but there is actually a round of matches before then. Yorkshire host Somerset from tomorrow (Monday), while Middlesex play Lancashire at Old Trafford.
While we think Yorkshire are in general the better side, our money's on Middlesex winning the Championship because they always seem to do well when they play the Tykes. We hate that nickname, but it would have sounded too repetitious had we used the word Yorkshire again. Maybe we could have gone with 'the White Rose' – people use that as an alternate name for the club, right?