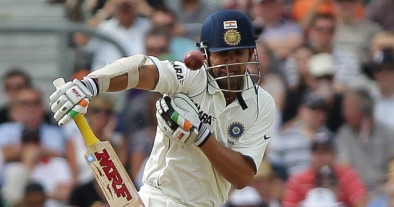 Cricinfo have published a story with the slightly mischievous headline: "'We still average 53 as an opening pair' – Gambhir".
It's not much of a statement, but by making it a headline Cricinfo have made it seem like a rather desperate plea. Gautam Gambhir is under pressure and he's resorting to the kind of talk often heard from England batsmen after a collapse: "There's some good batsmen in this team. We're all averaging over 40."
Statistics only tell you what has already happened, so citing them in your defence smacks of living in the past. After being simply unstoppable in 2008 and 2009, Gambhir averaged 32.75 in 2010, 31.33 in 2011 and 24.77 so far this year. He isn't pointing to recent stats.
We used to rather like Gambhir. We tipped him for greatness in 2005 (to ourself) and hadn't particularly changed our mind by 2009. However, since then, he's given off an air of being rather cosseted.
This might be unfair. We might just be seeing a reasonable batsman getting understandably defensive in the light of less stellar performances. However, it could also be that he grew a bit self-satisfied and developed a sense of entitlement as a consequence.
Earlier in the year, Gambhir made comments about wanting rank turners in India on which the home team would hopefully humiliate tourists. This may have been a reasoned philosophy, but being as it came on the back of personal failures in England and Australia, it actually seemed reactionary and sulky.
We're going to try and give Gautam the benefit of the doubt. Good players have a tendency to bounce back and perhaps this prolonged lean spell will become another old, meaningless statistic.