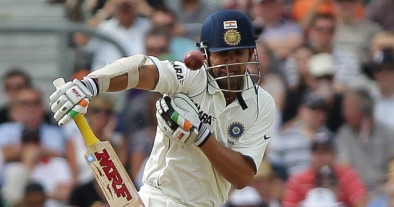 More often than not, an out of form batsman needs to be treated sensitively and given reassurance. If their confidence returns, they tend to discover it was actually all that was ever absent.
Then again, sometimes a batsman needs the bracing reality check that comes with having someone's lace holes applied to their backside with a certain degree of force. We get the impression that Gautam Gambhir had reached this stage and so it's probably in everyone's interests that India's selectors have finally dropped him.
It's the excuse-making. Good batsmen always have a reason why they failed on any particular occasion as this is actually a valuable way of retaining necessary confidence. However, if you don't have much confidence, this kind of self-delusion serves little purpose and Gambhir over the last year or so has been inhabiting the same territory as Ian Bell back when he used to make so much effort to stick out his chest. Body language is a symptom of confidence, not a cause.
No-one's fooled by posturing
In fact, it advertises fragility. For example, Kevin Pietersen's 'confidence' is frequently conspicuously brandished, but mentally he's all peaks and troughs. In contrast, Jonathan Trott does nothing to display that he's the man, because he doesn't need – or value – that reassurance. He's steadier and more resilient.
Admittedly, this is partly because Trott is entirely self-contained – approval or disapproval from others has little effect on him. He simply doesn't give a shit what anyone thinks. Not in a brash,  aggressive way – it's more that he's almost autistically oblivious.
Only Trott's brain affects Trott's emotions, so posturing serves him no purpose.
The quest for validation
Gambhir's not like that. Unlike Trott, or Tendulkar, he accepts public validation and is therefore vulnerable to public disapproval as well.
There's nothing wrong with having your confidence built on the mood of others, but it can make you vulnerable. The public don't know how you train, but they do know your past performances. They give you nothing when you're slaving away and seeing no results, but they love you when you've seen success – even if you've now started to grow complacent.
There's a time lag there and it feels like Gambhir has been inhabiting that netherland, his stockpile of acclaim for past glories steadily dwindling without his taking much action to address that.
What next?
Well now that he's got the heave, Gautam Gambhir will have to fully confront reality. We reckon he'll be able to do this and we reckon he'll respond. He's a pleasingly workmanlike batsman from a nation that produces its fair share of artists. That implies that he is, at heart, a very effective pragmatist.
A word of warning, however. A premature recall will breed only false confidence. The arse kick must propel him sufficiently far from the India team that he has to work hard to get back again.