< 1
minute read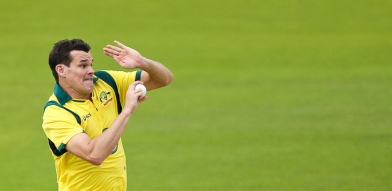 Australia have called up the Victoria bowler Clint McKay, because after being on the road for about nine months all their bowlers are falling to pieces. Who is he?
Clint McKay has been selected for Australia because he really, really wants to play cricket for his country. Lots of cricketers say that they want to play cricket for their country, but they imagine that it'll just happen because someone once told them that they had 'natural talent'.
Clint McKay had a Victoria contract several years ago, but lost it. Rather than spend his time simultaneously crying and eating meat and potato pies, he trained like a bastard with an Aussie rules team and lost a ruck of weight. Then he took a load of wickets for his club and earned another state contract, whereupon he took further wickets for Victoria and got picked for Australia.
Elite development the independent way.