19
Monty Panesar's dimension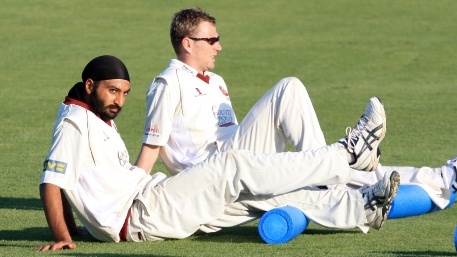 People can overcomplicate things sometimes. Pyramid tea bags? You can make a perfect cup of tea with an ordinary bag, so this is not a worthwhile development.
Okay, maybe that's not precisely the right analogy here. We do accept that there is something in the Monty Panesar has played one Test X number of times argument, but you should never confuse a flaw with uselessness.
There are days when Panesar might benefit from a little experimentation, but that doesn't mean he's broken, which is how people sometimes interpret that. He's not a mischievous imp of a spinner, he's a line bowler – and he's a damn fine line bowler who gives the ball a rip. The minor flaws don't cancel out his massive qualities.
If conditions aren't in his favour, Panesar is consistent and doesn't bowl bad balls. If conditions are in his favour, he takes wickets by the absolute bucketload. He has more five-wicket hauls in his last four Tests than Andrew Flintoff took in his entire career.
In this Test, Panesar has obliterated an Indian batting line-up to the extent that they'll be asking Duncan Fletcher to show them the forward press and the sweep. Sometimes it's important to be thankful for what you have, because it bloody well does the job.

You really should subscribe to our email updates - here's why
This fielding positions T-shirt
could actually be used for reference purposes
It's all that foam rolling, I tell ya!
Amidst all this, let it not be forgotten that AB de Villiers is batting on 12 off 101 deliveries. I am guessing there were a lot of DLF dots there. This truly is the month of test cricket.

foam rollers are godly.
I am releasing a general call to the world to take a one-year moratorium on comparing anyone to Andrew Flintoff by comparing their five-fors. Andrew Flintoff never took five-fors. It's partially a statistical fluke, partially a symptom of a massive flaw in his game. He wasn't a five-for bowler. Wicket-taking bowlers, all of them, have to take many more than he did. End of story.
To be fair Tybalt he had a 12 month period where he was possibly one of the best wicket taking bowlers in the world around the Summer of 2005…

Otherwise I agree!

Okay, how about: He has more five-wicket hauls in his last four Tests than Ashley Giles took in his last forty-four?

But….Panesar is not in England's first-choice team. They pick him on spinning pitches, they rarely pick him in England. If he played all the time his figures wouldn't be nearly as good. So the comparison is moot.

Moot I tells ya!
One of the things that makes test cricket better than any other form of sport is that the thing being contested is not always the same. There are times when it's all about runs or wickets, and times when the currency is hours, minutes and seconds. Good players understand this. Great players understand it and can do something about it.
ABDV scored 33 from 220 deliveries, apparently second only in scoring rate slowness to a Chris Tavare masterpiece from 1982. But if you reword it slightly, what he did was score 220 deliveries for no wicket. The score was 45 from 21 overs when the fourth wicket fell. AB was next out, the score having moved to 134, but the overs having moved to 89. This is high class batting precisely in line with the goal of winning the series, and any comparison with Chris Tavare (who did his 35 from 330 balls in THE FIRST INNINGS) is plain wrong.
ABDV – the poor man's Jack Russell. While I enjoyed Du Plessis' cameo it was hardly Athertonian.

Or to put it another way, SA finally have their own Johannesburg.
It was so amusing watching Siddle nearly spontaneously combust trying to get South Africa out. In other fabulous news, Mitch Johnson is back in the Test squad for Perth.
His Movember effort makes him look like Anthony Kiedis from the Red Hot Chilli Peppers. Post heroin addiction, of course.
You cant bowl fast on salad. FACT.
If Siddle had a steak at lunch he wouldn't have looked so buggered at stumps and may have got the extra couple of wickets.
One thing we need to be careful of with Monty is that he is in the interesting position of only playing when it's balantly obvious that conditions suit him. He isn't having his one-dimensionality become a problem largely because for some time now, he hasn't been given more than one job, which is what you need from regular team players. His recent record is excellent, but it has an extra necessity for it to be, and so we need to hold loftier standards.
Standards for Monty do seem to be lofty. Galle was the only Test he's played this year in which he didn't take a five-for and he was promptly dropped.

I think i should point out NZ's own Monty P, Jeetan P. He plays the same role as Monty but with far less favourable results. And Jeets' test average of 45 confirms just this.
Pyramid teabags, eh? My smartphone wanted to change teabags into tear gas just now & for good reason. Daisy and I experienced most of this test match I the shadow of the Great Pyramid just outside Cairo. Broadband could not be had for love nor money. Actually, it could for money, but silly money. And there were enough willing people to keep us appraised if the score.
Still, when we left Cairo (& tear gas) behind yesterday the match was still poised. On arrival in Hurgada, broadband aplenty forms part of the deal & my phone woke up to the news that England had set up a winning position.
Thanks to the test match sofa folks, we got to hear the denouement in all its glory while sipping tea on our sun terrace this morning.
FYI, no pyramid teabags to be found in the land of those enormous four-sided erections.
But plenty of Indian staff in the hotels utterly baffled that Monty didn't play in Ahmedabad.
Anyway, greetings to you all from both of us in gloriously sunny but poliricslly somewhat turbulent Egypt!!
Poliricslly?

Yup, a well-known portmanteau word meaning "politically silly". Well-known round these parts anyway.

Strange how the smart phone leaps in to assume that tea bags must be tear gas, but leaves such a dog's breakfast of a mistyping to public scrutiny and derision.
Monty has tried a little experimentation, and it didn't go so well for him. After his initial success for England, the Experts were of the mind that he'd be even better if he had actual variations and stopped droning on about "right areas". So he spent an off-season trying to master a slower ball, etc, and ended up messing up his stock ball, eventually getting banished to the wilderness. At this point in his career, he's not going to try anything other than aiming at being the spinner's version of McGrath.