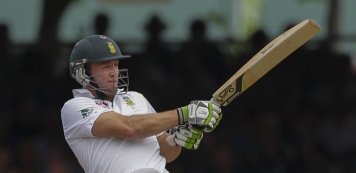 Back in November 2012, AB de Villiers made 33 off 220 balls so that South Africa could save a Test against Australia. In March last year, against the same opposition, he made 43 off 228 balls, but this time South Africa lost.
Today it took him all of 31 balls to make a hundred. Only six didn't go to the boundary. After that, he sped up.
If these extremes are impressive, consider what's in-between. If you can block with the best of them and also slog with the best of them, your main challenge is deciding precisely how to defy the opposition.
We're probably in mandatory handicapping territory here. AB de Villiers should be made to bat with the broken-off handle of a 1970s tennis racquet after downing three pints of Moonraker with a peeved ocelot strapped to his back. If we can persuade him to play like that for the next decade or so, either his Test or one-day average might just drop down into the forties. Not both though. That would be a bit optimistic.