2
minute read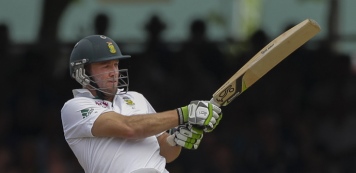 A real man of the match performance from AB de Villiers won England the first T20 international against South Africa. The greatest sportsman who ever lived ate up 58 balls in making an unbeaten 65.
If the innings hinted at a two-paced pitch, England's batsmen only noticed one of them and weren't unduly troubled by the other.
For all the adulation, it's worth remembering that de Villiers isn't actually all that good at T20, one of the two formats he still deigns to play. Nor has he done a right lot else in recent times.
De Villiers' last Test hundred (do we mean 'most recent' or 'final') came in January 2015. His most recent one-day international hundred came in January 2016.
This isn't to talk him down. He's been an extraordinary batsman, but we're starting to wonder whether he ever will be again. He's supposedly fully focused on the 2019 World Cup, but in the Champions Trophy he looked like a man short of cricket. You wonder whether he might want to broaden out his tunnel vision a tad.
In this match he looked like a man playing with a hollow bat.
Jason Roy isn't in great form either. His body is – as one stout over of straight-batted thonking proved – but his brain is not.
Refusing to stick to the methodology that had started to reap rich dividends, Roy for some reason backed himself to play someone else's natural game and unfurled a suicidal reverse sweep.
Clearly Roy feels he has something to prove. That proof will probably only come once he feels differently.