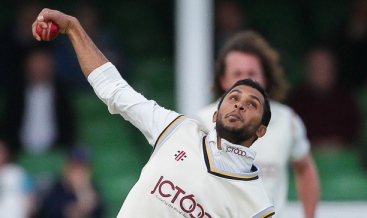 Being a young leg-spinner involves being told you're amazing when you're not. When you get a bit older and you seem a little less exciting, people tell you that you're rubbish when you're not. If you can bat as well, the extra novelty magnifies that first bit and also the contrast with the second bit. Such is life.
How old do you think Adil Rashid is? Don't look it up; we're going to tell you in the next sentence. He's 25.
There's a feeling that Adil Rashid's progress has stagnated (perhaps he's even regressed) but this is perhaps understandable as his confidence has taken a few knocks while those around him have been recalibrating their expectations. Confidence probably has a bigger impact on the performances of leg-spinners than it does on those who practise more prosaic forms of bowling and Rashid's has been hammered because he has unavoidably let people down.
A leg-spinner short of confidence can serve up some real shod, but even one in form can often start a spell with a fair chunk of it before things settle down. How does a captain distinguish between rhythm-finding shod and the kind that's there to stay? He just has to have faith really. Even when treated sympathetically, a young leg-spinner cannot always justify that faith.
It makes you wonder how anyone can ever find themselves bowling leg-spin at a high level. The world presents such a hostile environment. On the other hand, if a bowler can conquer this, you can be sure that you have a cricketer of rare resilience.
Perhaps this in itself has added to the reputation of the leg-spinner. When they do make it to the very top, they tend to be special, so we hope against hope that every young practitioner has all the right stuff. We see what we want to see, even though it (currently) isn't there.
Adil Rashid hit a hundred yesterday, but expectations regarding his bowling are currently low. Maybe they've bottomed-out. Maybe they'll now rise more realistically alongside his performances as a result of that fact. Or maybe he'll completely corner the market on shod. Maybe, maybe, maybe.