In the spirit of being a half-arsed website with no clear direction, we thought we'd bring you the news as gathered by looking at a couple of scorecards on Cricinfo.
First of all, if you haven't seen it before, we can confirm how the internet's foremost cricket website (Cricinfo, not King Cricket) distinguishes between two players who possess exactly the same name.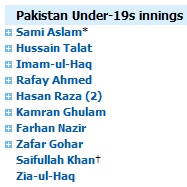 They use a two. Textbook.
On an entirely different scorecard, Yorkshire's Gary Ballance has three digits next to his name in a match against Australia. If you've read any articles about Lions squads this year, you'll get the vibe that Gary Ballance is going to play for the full England side before too long. This probably confirms it.
Was Gary Ballance born in southern Africa? Of course he was. Everyone should be pleased by this. England supporters get a good, solid batsman and those who hate England get to continue plundering a rich library of jokes which has been built up over many years.