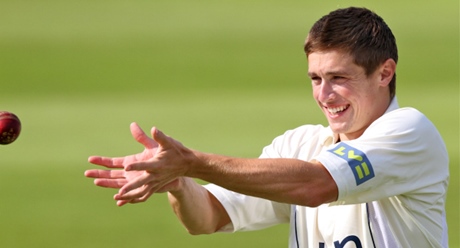 So it looks like either Finn or Tremlett will replace Tim Bresnan for the fifth Test, unless England decide to play a second spinner, in which case Simon Kerrigan will get a game. Or, if they can't make their minds up which way to go, they might end up picking five bowlers, including Chris Woakes as an all-rounder.
That's the way we're reading it anyway.
Spin thoughts
If you're not going to pick Monty Panesar, then you should at least pick a Lancastrian, so this is okay. Kerrigan hasn't played a great deal of real cricket this season – what with having been sentenced to one season in the second division and all – but he's done well in the first division in years gone by.
Monty is apparently a bit wobbly. It seems he's divorced his wife and gone a bit wayward in response to that. He was already on a final warning with Sussex prior to his pissy fit and now they're looking to sack him.
All-rounder thoughts
Chris Woakes' first-class record is extremely good and on the face of it, he promises both runs and wickets. However, whenever we actually see him play, he always strikes us as being one of those all-rounders who isn't likely to deliver either. His batting's improved loads, but he's not an exceptional batsman, while his bowling errs towards relentless steadiness.
He's kind of like an expensive futon which doesn't really work as a sofa or a bed. It's not the best of both worlds. It's an unsatisfactory version of both worlds which occupies less space.