2
minute read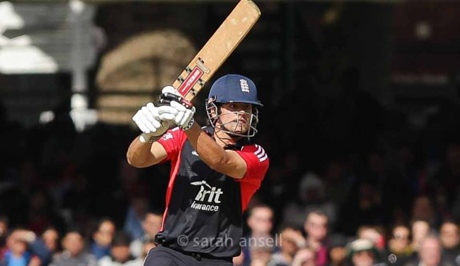 You go away for a few days and the unthinkable happens. England at least appear to have settled on a pair of one-day openers.
It's like we've been to a faraway planet and have returned to a parallel earth. We had to switch Radio 1 on for a minute just to check that most people are still cow-brained.
It's hard to express just how unlikely this is. There are rules about this sort of thing. England's Test team is sacred. It is kept in a locked cupboard and only dad is allowed to touch it in case someone gets one of the settings wrong. The one-day team is a big, brightly-coloured, plastic toy for babies that makes sounds when you faff with it.
No parts of the toy invite a press and a squeeze more than the two opening slots. The chunky plastic is oh-so-inviting and both children and adults can't help but jab at it.
Since Alastair Cook made his Test debut, England have used seven opening batsmen in the longer format. Two of those batsmen – Marcus Trescothick and Michael Vaughan – have retired. A further three – Jonathan Trott, Mike Carberry and Ian Bell – have played one match each at the top of the order.
In that same period of time, England have had 16 one-day openers, including Mal Loye, Ed Joyce, Joe Denly, Luke Wright and no fewer than four different wicketkeepers. You might think 16 is a lot, but think about how many ways you can combine those names.
It's not like there's been an ever-present. This isn't the charts. It's not all 'blah-de-blah, featuring Rihanna'. Instead, it's a near endless list of 'blah-de-blah, featuring blah-de-blah'. To have this uncertainty replaced is profoundly unsettling.