We went to the fifth one-day international between England and Australia. Cricket-wise, it was your quintessential damp squib, even if the weather was a beautifully sunny, warm, dry squib.
The paper wallet in which the tickets arrived promised music, action and cricket, in that order.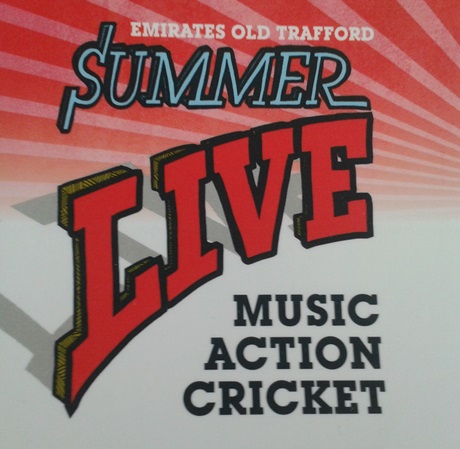 We assumed this was a reference to Old Trafford also hosting live music events, but as it turned out it was a fairly accurate description of the entertainment on offer on the day.
We saw David Gower striding across the outfield before the match. He's been looking older on TV, but we were struck by how lithe and spry he remains. Nasser Hussain's hurried gait was also on display but we didn't have any strong feelings about this. Tom Moody was there too. We didn't see him walk much, but we can confirm that he is massive.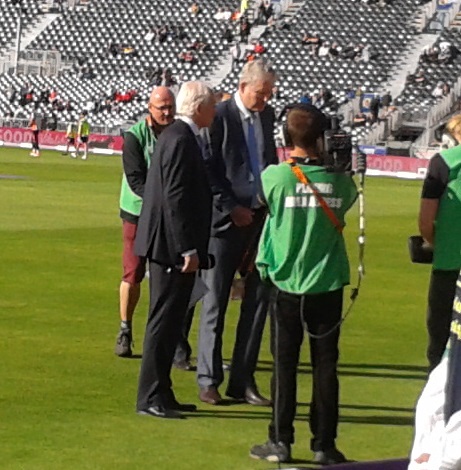 Fortunately for the purposes of this match report, we didn't really see much cricket because for about half the match, Mitch Marsh was standing in the way. Here's one moment when he was slightly less of a visual impediment.
We passed the day having a 'pie-off'. Various offerings from Stockport's Lord of the Pies were pitted against the classic meat and potato from Treacle Town Pie Company in Macclesfield.
This competition was not without controversy. It transpired that the pies from Lord of the Pies had been warmed, whereas the Treacle Town pies were cold. Allegations of 'pie doping' were bandied about but eventually we decided to just eat the pies and try and factor the relative warmths into our ratings.
The general consensus was that Lord of the Pies offered greater pie diversity, but the standard Treacle Town meat and potato would have been the finest pie, had it been warm.
We wish we had photos of some or all of the pies to share with you, but we didn't want to encourage the people we were with. At one point two of them – let's call them Dave and Alex (because those are their names) – were looking at photographs of pies from a previous pie-off, discussing which pie they had eaten at what time of day and which had been the finest. As they were doing this, they were eating pies.
Between innings, there was a competition where six people got to bowl at a washing machine. If they landed the ball inside the drum, they won a washing machine. No-one managed it. While this was going on, one of the Kwik Cricketers took a blinding catch, palming a full-blooded pull shot straight up into the air before pouching the ball as it came back down.
The match finished early and we went and got the tram. At the end of our journey, we discovered that we were due to have pie for tea. After lodging a formal complaint about this, we drank some wine and fell asleep.
Send your match reports to king@kingcricket.co.uk. If it's a professional match, on no account mention the cricket itself. If it's an amateur match, feel free to go into excruciating detail.