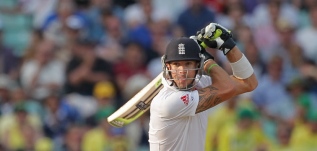 Remember when England dropped Nick Compton? At the time, we thought maybe they were getting a little bit ahead of themselves. People said Joe Root was amazing and there were loads of other amazing batsmen queuing up to play for England and come on, come on, bring us the future; the future's going to be amazing multiplied by amazing!
A few months later, 33-year-old Mike Carberry made 78 against a Western Australia Chairman's XI and England were now in a position where they thought: "Oh, okay, er, maybe he could open the batting? And then Joe Root could move back down the order? Yeah? Yeah?"
Sometimes you can overestimate the quality of what you have in reserve. Particularly if you're cocky and kind of stupid.
But of course we're in a completely different situation now. Back then, England were planning for a glorious future and ushering in talented youngsters in a bid to experience it sooner. Now England are shit. Now it's time to rebuild with talented youngsters. You know, like Australia did earlier in the year.
Because surely that should be the template for how to turn a team around? Except for the likes of Chris Rogers, Mitchell Johnson, Brad Haddin, Ryan Harris and a few others, Australia started afresh, didn't they? They gave youth its head.
When times are tough, you have to move on. It's vital to start rebuilding and the first step in that process is to chuck any half-decent bricks you find into a skip. It's not sinful waste, you see – it's long-term planning. You can't really judge the wisdom of these decisions now because it's a long-term thing. It's all going to be fine. Stop questioning the ECB's wisdom, okay? Just stop.