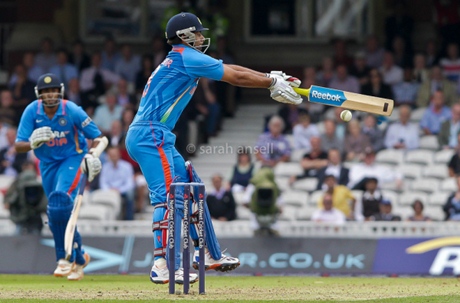 R Ashwin is a good batsman, but no-one considers him to be one of the best six batsman in India. In that case, why is it that he seems to be thriving with the bat while the specialists are batting like a big bag of grundle?
There's no simple answer. We're talking about a whole bunch of players and a range of different dismissals. They're also up against a fast bowler, a swing bowler, an off-spinner and a slow left-armer in this Test – England are ticking many boxes (metaphorical ones, not the nad protectors).
But still, Ashwin's managed to do okay. It's a shame he isn't bowling as well as he's batting really and it does beg the question as to what that batting grit is worth. When judging him as an international cricketer, his batting skill's almost irrelevant at this point, but does his resilience and fight mean anything for his future, which presumably hinges on the quality of his bowling?
Bowlers who can bat are great, but the bowling has to come first. It is non-negotiable. It is a necessary qualification for inclusion in a team. If there's admirable competitiveness latent in Ashwin, he doesn't currently seem to be able to make use of it with the ball, which is where it's really needed.
It's kind of like us. If we could employ the same diplomacy with our colleagues and managers as we use with the toaster, we'd be onto a winner. We have never once told the toaster that it has had a really, really, monumentally stupid idea that betrays a total lack of understanding of what we are trying to achieve. We need to translate that kind of interaction into our professional life.