2
minute read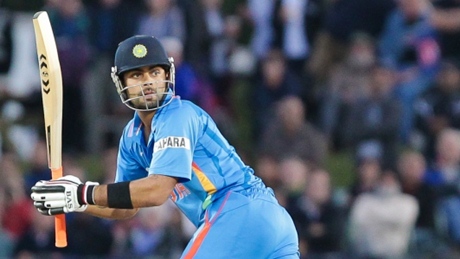 Were he to find himself playing in a format-spanning Super Series, it would seem highly likely that Virat Kohli could find himself named man-of-it. The guy averages over 50 in the two shorter formats with a perfectly healthy strike-rate in both.
His Test record's very good too: 12 Test hundreds and an average of 43.76.
That's not extraordinary though. If we're not exactly in Aftab Habib territory, the numbers don't quite match Kohli's reputation – and what is cricket about if not building one's reputation through numbers? Maybe that's what he's always so angry about when he's batting.
We felt moved to check Kohli's Test record while Cheteshwar Pujara and Ajinkya Rahane were batting together against New Zealand recently. While they've played fewer Test matches, both average about 47.5. The numbers don't say much, but they tally with our feeling that these two are perhaps the team's best batsmen in the longest format.
Captaincy combined with weight of runs across the formats gives Kohli a certain clout, but we still found it odd to hear him dissecting Pujara's approach to Test cricket recently. There were complimentary words in amongst it all, but the general tone was a bit end-of-term school report.
It all had a kind of he's-finally-started-listening-to-me hue.
"Pujara is someone who absorbs the pressure really well but after a certain stage in the innings there comes a time when the team needs runs. That's where we felt that he has the ability to capitalise. It was just about conveying that to him."
Or what about this?
"We want Pujara to bat to his potential. Once he starts scoring runs to go with the composure he already has, it becomes very difficult for the opposition to have control of the game."
Kohli also said it was "a revelation" to see Pujara score quicker "because he used to bat that way initially." The qualification criteria for revelations clearly aren't as stringent as they once were. We suppose it's down to modern attention spans.
Is it just us who finds this tone somewhat odd? We suppose Kohli, as captain, has responsibility for how the team performs as a whole (as a unit, if you will), but it seems to us that in Test cricket at least, Kohli arguably has as much to learn from Pujara as Pujara does from Kohli.
Flip it around. Imagine Pujara saying the following about Kohli and see how it sounds.
"Kohli is someone who always looks to score runs, but at certain stages in the innings, the team just needs him to absorb pressure. That's where we felt that he could improve. It was just about conveying that to him."
And…
"We want Kohli to bat to his potential. Once he starts showing composure to go with the run-scoring ability he already has, it becomes very difficult for the opposition to have control of the game."