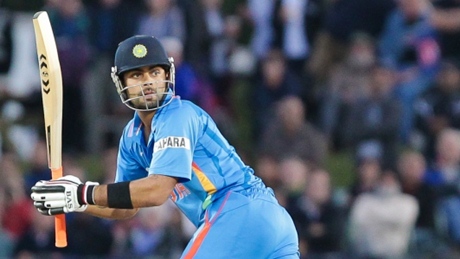 We suppose we really should at least acknowledge that the biggest cricket match of recent years took place. You know the one – Virat Kohli scored a hundred (as usual) and Misbah-ul-Haq made a futile 50 (as usual).
It was Kohli's 22nd one-day international hundred, a number that is both strikingly impressive and slightly meaningless at the same time. Kohli and AB de Villiers are the preeminent one-day batsmen of their time, but they play so many crappy nothing games that one-day international statistics don't really have the power to impress.
The World Cup matters, of course – that is an official editorial stance round these parts – so maybe we should focus on players' World Cup records specifically, in which case the knock against Pakistan was Kohli's second World Cup hundred.
That sounds like nothing and some India fans will grumble and say we're deliberately trying to diminish their man's achievements, but it's quite the opposite.
Two is a lot
If you can get your head around that, you will start to understand where we're coming from. The two hundreds in games that matter outweigh the 20 in games that don't. Virender Sehwag only made two World Cup hundreds in his entire career. Brian Lara made two. Even the mighty Nathan Astle only made two.
Only 11 players in history have made more than two World Cup hundreds. We're saying that two is a lot, but looked upon like that, even one is a lot.
And one IS a lot. That's what cricket should be like. Hundreds should be A BIG DEAL.
And they are
For now at least, World Cup hundreds remain a big deal. Even Sachin Tendulkar, whose statistical jetsam is too sprawling to comprehend, notched a manageable number. He made six. That is few enough that a human being could conceivably remember them all.
When (yes 'when') Virat Kohli makes his third World Cup hundred, he will leap into equal fifth place behind Sourav Ganguly and Mark Waugh on four, Ricky Ponting on five and Sachin Tendulkar on six. He will be level with the likes of Viv Richards, Saeed Anwar, Sanath Jayasuriya, Mahela Jayawardene and AB de Villiers.
Strikes us that you don't actually need to play huge numbers of matches to identify the best players. Just play a handful that actually matter and you'll get decent, meaningful results.