With a bonus Kent v Essex in the Friends Provident Trophy match report thrown in ABSOLUTELY FREE.
This continues this week's theme of our not really writing anything. How long can we keep it up?
Lemon Bella writes:
Myself and Indian Skimmer saw our first matches of the season this weekend.
Friday
On Friday we travelled down to the St Lawrence ground to watch the third day of the Championship match against Notts.
We discovered that the coffee machine in the members' lounge has been changed to an inferior brand and the coffee is now horrible. This is yet another example of the game's administrators being out of touch with grass roots fans. Moreover, they've moved the machine to behind the bar, so we have to talk to someone whenever we want a cup.
Ryan McLaren ate a crumpet at tea time. We didn't have crumpets. We just had to sit there in the cold with our horrible tasting coffee. Next time, we're asking Ryan McLaren for a bite of his crumpet.
Yasir Arafat didn't bat because he had suspected appendicitis. We didn't believe him because that's the kind of lie we used to tell to get out of PE lessons at school. He was fine by Sunday, so that proves our suspicions.
Saturday
On the final day of the Championship match we went to the zoo because we didn't want to sit in the rain for six hours to watch Kent fail to defend 22 runs.
Instead, we walked around in the rain for six hours and saw a lot of animals hiding in their shelters. We got flapped at by an ostrich and bought a soft toy of an African Hunting Dog.
Here is a picture of Nella the African Hunting Dog being indifferent to a video of South Africa playing Australia.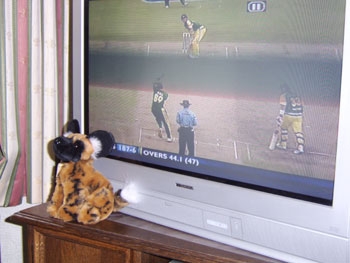 At first we thought that maybe he was only indifferent because he'd seen the game before, but we tested him again and his indifference only increased. This is him failing to inspect the pitch in Indian Skimmer's back garden.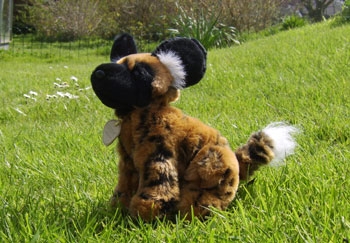 Sunday
Before the Friends Provident match on Sunday we wandered around Canterbury for 20 minutes trying to find somewhere to buy a newspaper. Everywhere was closed, even WHSmiths. When we got to the ground, Andre Nel had a newspaper, so the Essex team must have stopped at a service station on the way.
Martin Van Jaarsveld scored a century. At breakfast, our B&B owner had told us he would do, but we didn't believe him. From now on we will listen to his every psychic word. He makes really good poached eggs, so that only bolsters his credibility.