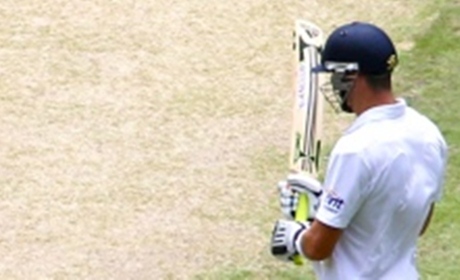 Up until today, South Africa have been appropriating England's Test template. They've batted for bloody ages and wearied the opposition batsmen in the process, sapping their concentration and vitality. Their first innings 419 wasn't a monstrous score, but 139 overs was plenty to put into England's legs and minds.
It was also plenty of overs to subtract from the match, considering England have to win to have any chance of winning this stupidly short series. However, England have a Kevin Pietersen and if you have one of those, you can buy yourself a lot of time.
This 149 not out off 212 balls has included some shots that are ridiculous even when measured on the KP scale. One kamehameha drive could quite honestly have killed Dale Steyn if it hadn't just missed his head, while a ludicrous straight six shortly afterwards snuffed out a lot of South African enthusiasm. That's also handy. There's more than one way to dispirit the opposition.
If you can refrain from trying to mimic him, it must be easier batting in partnership with Pietersen. The bowlers might have some added fire initially, but it would take adamantium resolve for them to shrug off some of his boundaries. They basically amount to abuse. Even the best bowler in the world can be cowed by that – at least temporarily.
Kev's task now is to shrug off today's cockiness and get himself in again tomorrow. Unfortunately, while he can do some amazing things with a bat in his hand, but we're not entirely certain that's one of them. Also, the weather forecast's crap for day four. He definitely can't sort that.