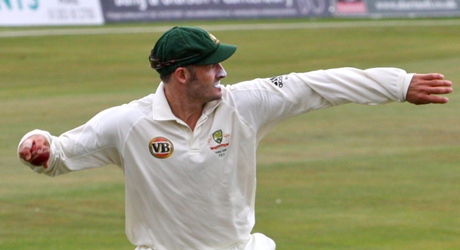 What an absurd luxury to have Mike Hussey coming in to bat at seven in any form of the game. Yesterday, the man who people still tend to think of as a rather dour opening bat once again finished a game for Australia after six men had gone in ahead of him.
If he were English, he'd be up to number three, but the Aussie attitude is 'if it ain't broke'. And it's far from broke. Having had Adam Gilchrist in their Test side at seven, the Aussies know that you can dispirit the opposition bowlers simply by showing them your team sheet.
Michael Bevan was the ultimate finisher, getting Australia home when they'd lost wickets and seemed miles from the target. He'd keep the run-rate just about in check and time the chase to perfection. Hussey's done this in one-day internationals, but he also does something Bevan never really had to do: he rains sixes down upon the opposition.
He does this either to make a good score staggering or to miraculously salvage a match that seemed gone. It's one thing to open the batting and have a heave, it's quite another to come in at seven in a Twenty20 match and do the same.
Openers can fail. There's still plenty of batting to come. Mike Hussey can't fail, because if he does, the game's probably lost.
Openers can choose the balls to hit. Yesterday, Mike Hussey got to the point where he had to hit pretty much every other ball for six.
If you come in at seven and need to hit sixes, your run chase has not really gone to plan. Basically, it's a situation where batsmen are failing.
All of which is just our way of saying that Mike Hussey's 24-ball 60 to win the World Twenty20 semi-final in the final over (no pressure) was not a shit innings.