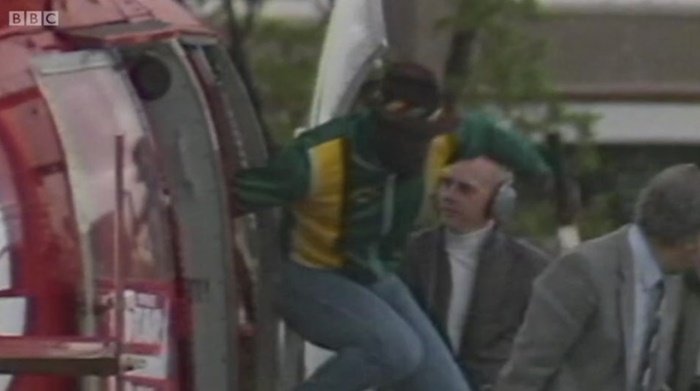 Firstly, let's just savour yet another fine moment for Rangana Herath, an international cricketer who is not only older than us, but also better than every other cricketer there's ever been (possible hyperbole). Spending most of your career with Muttiah Muralitharan as your benchmark can lead to having standards some way above the clouds, it seems.
Yesterday, the homicidal capybara did what he has done so often – he bowled Sri Lanka to victory when they were almost wholly reliant on him to achieve it. No-one else could have got the side home, but Herath is by now unfazed by such things and took six Pakistan wickets for 43 in 21.4 overs of predictable brilliance.
Pakistan suffered greatly in that match through not having another fine old cricketer at their disposal. Misbah-ul-Haq averaged 239 in the fourth innings of Test matches in the UAE. Not bad when you consider what those pitches can be like by then.
A TV recommendation
We watched Race and Pace last night. It's not a post-acrimonious-split lowbrow ITV sketch show from the Eighties, but a documentary about West Indian pros playing in the Lancashire leagues. It's exactly the kind of BBC programme about which you think, "what in hell possessed you to make that?" but also "why didn't you make it far longer or do a whole series?"
Professionals playing against amateurs is one of our absolute favourite facets of cricket. The idea that world stars rock up and showcase their unearthly talents against carpet fitters and foundry workers is demented but also gives rise to all the best stories.
The juxtapositions in Race and Pace are plentiful. The finest is Viv Richards turning up to play for Rishton in a helicopter. Have you been to Rishton? The current population is under 7,000.
None of it makes sense. David Lloyd says Accrington played Rishton twice at home and that covered their finances for two years. They seemed to make most of the money from selling pies.
Speaking of which, how's this for a Viv quote: "I found out about another cuisine that you had in that part of the world: mushy peas and pie. Looked a little foul at the time, but I'm an honorary Lancastrian so I'm going to let it work."
That's so Viv to say 'let it work'. King Viv will allow pie and mushy peas to function.
Anyway, it's only half an hour long and available via the iPlayer and we heartily recommend it for these and other reasons. If you're overseas, there's almost certainly some workaround that will allow you to watch it, although we don't know what it is because we don't need to and therefore can't be bothered finding out.