3
minute read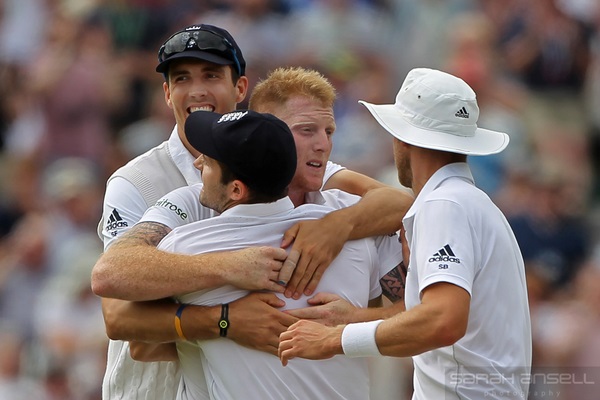 A semi-regular feature in which we ask a fella going by the name of Prince Prefab about cricket – even though he hates cricket. We are in bold. Prince Prefab is not.
It strikes us that a looming Ashes tour is one of the few times when the sport might force itself into the wider public's awareness, so we're interested to hear the current view from 'outside cricket'. Before that though, there's some related cricket news that we'll have to touch upon…
I was in a town in Yorkshire once – Cleckeaton, Pudsey, Batley, Shipley, I don't know – and I was driving along with a mate and we saw a dog being pushed along in a pram, all tucked up nicely. And he nodded and went 'Dog in a pram' and we carried on. And it was quite a thing to see, but it was still just a dog in a pram. So I'm sure there are many column inches being written about what you alluded to but there's no more to say than 'dog in a pram' about it really is there?
Yeah, we don't want to go down the route of dissecting the incident. We were just wondering what perception you'd had of Ben Stokes before this week (if any)?
None at all. Honestly couldn't have picked him out of a police line up including him, Prince and Alan Partridge. Although I would know he wasn't Prince or Partridge, obviously.
So basically, you knew nothing of England's most high profile Test cricketer before this week and now you think… well, we should probably let you put it in your own words.
I've seen a video of him fighting for a minute. I've never seen him play, heard him speak, read an interview. I don't even know what he's said after this incident. From what I know he could be anything from a decent fella who acted daft on a night out to a raging psychopath.
By the way, watch that video. Are they all wearing white trainers cos they're cricketers and they think that they have to wear white trainers all the time? Or is that the fashion? For lads who go to shit clubs and don't know that they should be wearing proper footwear by their mid twenties?
We bought some Hi-Tec Silver Shadow the other day – but they're silver (they're grey).
Mate, you're too old to be wearing trainers for anything other than sport. Come on. You know that. You'll look like a leisure dad.
Should Stokes play for England again?
Oh yeah. But a big fine and a good telling off. A proper telling off, like when Mr Carter made us cry for having a water fight with the fire extinguishers in the huts.
Next question: did you know it was the Ashes this winter?
Yes, I did. But maybe because of the Stokes stuff. The will-he-won't-he be selected fuss I've heard on the radio. I'm not certain I would have known otherwise.
Any knowledge of the squad? Any opinion at all about how England might do?
I presume that guy who was shouting 'Stokes! Leave it!' might be in there. Can't remember his name. Someone called Ali? I just googled two I thought might be playing. One is 40 and retired. The other is 45 and Australian. I have the idea that it is not thought we will do very well in these Ashes but I do not know why.
"Stokes! Leave it!" isn't in there, we're afraid – although many people thought he might have been. Moeen Ali will be going. You can have half a point for that.
Who were the two you googled? You can tell us. We won't publish your ignorance on the internet or anything.
Jesus this is embarrassing. Strauss and Hayden. I mean, Hayden even sounds so obviously Australian but I didn't know…
Odd that. A couple of years ago we asked another friend to name current England players. He said "there are loads" and then struggled to come up with a single name. He eventually went with Botham and Gilchrist.
Strauss is actually going, incidentally. Not as a player. He's director of cricket or some such title.
Just looked at the team and I recognise a good six or seven of the names.
To be fair, there's cricket fans who might be struggling with a couple of them.