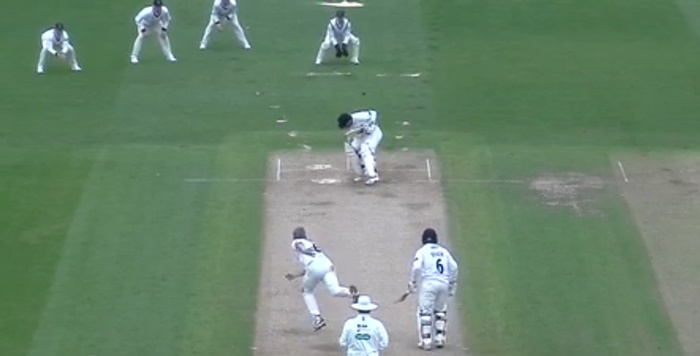 Warwickshire's Olly Stone bowled a bouncer and on the strength of that became the county player everyone's talking about this week.
In the 18th over, Stone dismissed Luke Wells and then the very next ball he bounced out Luke Wright. If you play for Sussex and you are a Luke W, maybe try and avoid facing Olly Stone if at all possible.
The Wright bouncer was one of those "argh, avoid it – oh no, I've hit it while trying to avoid it" dismissals, which is very satisfying because the bowler has made the batsman both frightened and out, meaning the victim is doubly humiliated. It is also encouraging when England are looking for some slightly quicker bowlers.
After the third day's play, Sussex's Michael Burgess said: "Olly Stone bowled quite quickly and well."
This seems relatively fulsome praise considering his team still had four wickets left at that time and he probably didn't much want to motivate Stone any further, being as he'd already taken the first six (he finished with 8-80).
Encouraging the notion that Stone might be able to do some of the main things you want a bowler to do in cricket, Burgess added: "They just had one of those spells where we seemed to keep nicking them and they seemed to keep catching them."
Without recent speed gun data, it's hard to know whether Stone is officially fast or just a 'brisk' bowler who was having a delightful day. For what it's worth, his Cricinfo profile page says that he bowled "in excess of 92mph" last year, which by our reckoning means he has previously bowled at least one ball at 93mph.
Further cause for optimism comes in the fact that Stone missed near enough two years of cricket thanks to an injury sustained while celebrating a wicket. That elite level of injury-proneness is the mark of a true fast bowler.
"He needs to learn to go through the gears and not bowl 100 per cent all the time," said Stone's captain Jeetan Patel, who appears to know a thing or two about the nature of county cricket.