3
minute read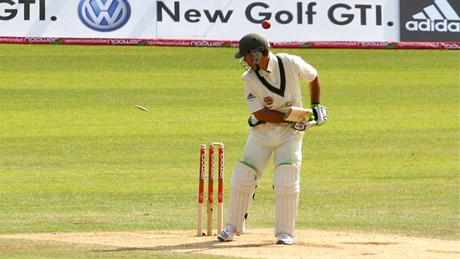 Take a look at this face. Tell us you don't instantly hate that face. You could pretty accurately track the progress of Ricky Ponting's career by our opinion of his face at various points in time.
It started badly. He made his first Test hundred in his first Ashes innings after Australia had been 50-4, so basically there was a strong desire for smug smile removal from the outset. However, it wasn't until around 2005 or 2006 that we wanted to plant our fist in his face with the most force.
Was the 2005 Ashes the turning point?
We can't quite work it out. He'd hit six hundreds in 18 innings in 2003, en route to a higher plane of obnoxiousness and he arrived in England in 2005 with us feeling much the same about him. Looking back, we're aware that the more Ponting's Australia lost, the more we warmed to him, but we're not entirely convinced this phenomenon was really all that noticeable following this series.
Maybe the first intimations of likeable qualities had been identified, but it can't have meant much as it was only a year later that England were mullered in Australia. This was also when Ponting's batting average reached its peak of 59.99 after scoring 142 in that bloody Adelaide Test.
Ricky Ponting's batting average
Let's try and forget just how fantastically irritating Ricky Ponting could be for a minute and instead consider that average. He retires with an average of 52.21, which is amazing, but leaves him immediately behind Mohammad Yousuf and with a fair few others above him. Had he retired in 2006, he would have been fifth. Crucially, he would also have played 53 Tests more than the most capped player above him.
That speaks of astonishingly prolonged consistency. That Adelaide hundred was his seventh of 2006 in eight Tests up until that point. Make no mistake, Ricky Ponting is a driven and extremely talented man.
Then what?
Then he went downhill a bit. Like many great batsmen, he probably had more confidence in himself than was actually warranted. That protective delusion is what gets them through the tough times, but it's also what can keep them hanging around, oblivious to the fact that everyone's enthusiastically clouding the vicinity with liberal quantities of Febreze.
This is when he won us over a bit though. He was a captain and a player who'd never really encountered tough times before, cricket-wise, and it was admirable to see that he wasn't a shirker.
His limitations as a captain were being exposed and his batting was deteriorating, but in a way this highlighted other qualities. The man is resilient and he feels a sense of duty. He's also fairly plain-speaking and honest and he loves cricket.
So, it turns out Ricky Ponting isn't a complete tool. It's just that he managed to keep this fact concealed from us for the first 14 years of his career.
Some more stuff about Ricky Ponting
Here are some links that we can't be bothered working into the main text. Don't feel you have to read them, but they might be welcome if you're avoiding doing work.