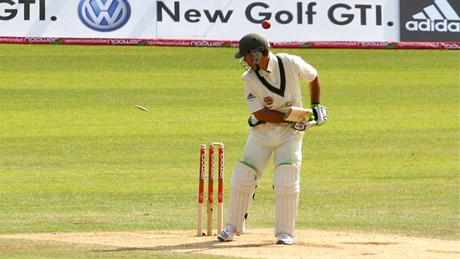 Ricky Ponting must be nearing retirement age because we're starting to appreciate him.
We read a statistic the other day that about one in five top seven Test batsmen average over 50. That's a ludicrous figure, but players like Sachin Tendulkar and Ricky Ponting were averaging over 50 long before it became fashionable. Watch them play and you know why.
Ricky Ponting's 150 at Cardiff in the first Ashes Test was the kind of unattainable batting perfection that commentators always demand and never receive because cricketers are actually humans. It was kind of sterile in its flawlessness though; admirable in the same way as really efficient engineering.
If that innings was all about a solid batsman making the right decisions again and again and again, today's one-day hundred revealed slightly more of the ability that Ponting ordinarily unleashes so watchfully. Few batsmen could mimic the six he hit off Rashid; across the line into the off side, but right out of the middle of the bat. Still fewer could have advanced towards Ryan Sidebottom, got nowhere near the pitch and yet hit the ball so cleanly we swear it disappeared into the clouds.
However, the surest signs that he's getting on a bit have been seen in post-match interviews where Ponting has revealed himself to be something other than a colossal tool – a fact he managed to keep concealed from us for the first 14 years of his international career.
If you're worried about us, don't worry, watching Ricky Ponting flip out is still one of our greatest joys.