3
minute read
We were given VIP tickets to a Stanford party at The Living Room in Manchester. We had to wear shoes instead of trainers. Having to wear shoes instead of trainers tends to mean a venue is 'not our sort of place'.
The evening revolved around showing the match on the big screen. There were to be free cocktails, canapés and 'special guests'.
When we arrived, we were handed our free cocktail. It was orange coloured and had straws in it. 'What is it?' asked our companion. 'It's a cocktail' replied the girl.
Now fully informed about our beverages, we made our way through to the main room. All the other VIPs were probably reclining in their chaise longues already.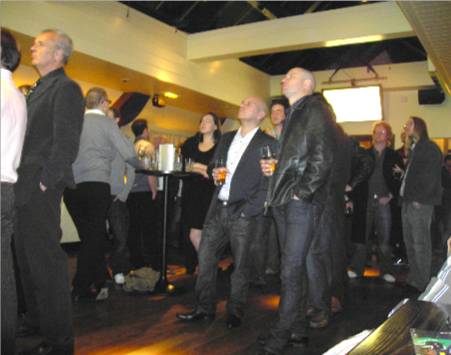 There seemed to be a lot of standing up going on.
Standing up didn't make us feel like a VIP. If we'd been watching the match at home we would have had the choice between standing up or sitting down and we would have opted for sitting down.
There were some tables down the sides of the room. One table only had two people sitting at it, so we asked if we could also sit there. The two people said yes, because you just have to in those situations.
Sitting down was better than standing up, although our companion was facing away from the screen. This is what the seating was like: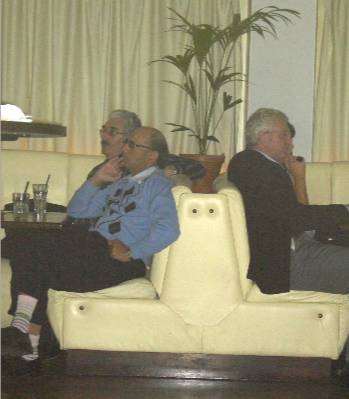 None of those people are us, although we do like his socks.
The cocktail was very sweet. Even a girl said it was sweet and girls will drink syrup given half a chance. We went to the bar to get a beer.
Here is the beer standing next to one of the cocktails: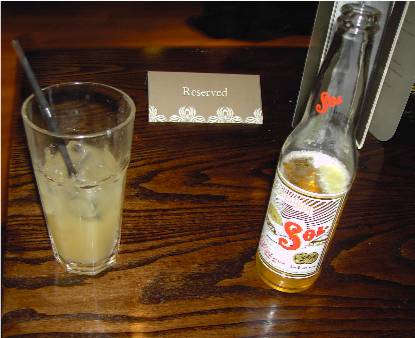 The beer was called 'Sol' and it was one of those beers that has to have fruit stuffed into it so that you can't taste how disgusting it is.
Later on we found a bar serving Foster's. Foster's was the best drink available. Here is a really blurry picture of a man enjoying his Foster's: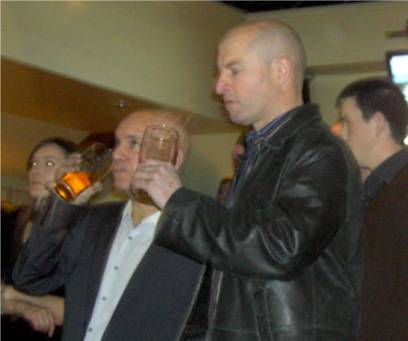 During the innings break, we saw the first special guest. It was Lancashire's new captain, Glen Chapple. Glen said England were 'under a bit of pressure'.
The two people at our table were Paul and Dave. Dave had entered a competition to win the VIP tickets on Lancashire's website. He won, "so I felt like I had to go". He said he probably wouldn't have watched the match otherwise. Paul and Dave were probably the most into the match out of everyone there.
The picture on the big screen had been expanded so that the score was constantly off the bottom. Fortunately, England played poorly enough that you didn't need to see the score to know how badly they were doing.
After the match, there was a second special guest. We were possibly the only person in the room who was delighted that it was Oliver Newby.
Oliver Newby didn't disappoint. Reviewing the match, he said that he was 'partial to a bit of Chris Gayle spanking'. Nobody else seemed to know that Oliver Newby's sense of humour revolves around making himself sound like a sexual deviant. Either that or they weren't really listening.
During the Stanford Superstars' innings there was jerk chicken and some pastie-type things. Both were very nice indeed.