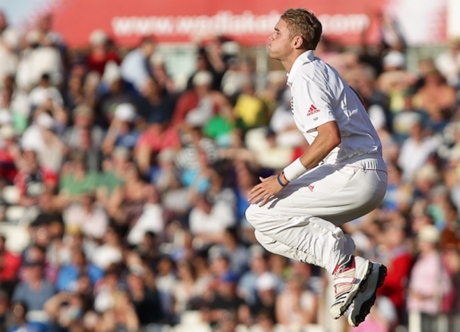 Expectations are a funny thing. A great film trailer guarantees a disappointing film. Far better to keep expectations low. That's our philosophy. Promise nothing and then deliver half of something to semi-grateful murmurs of: "Oh, it's not as bad as I expected."
After several years of promise and a number of highs and lows, we're all starting to get to grips with what we should expect from Stuart Broad.
For a while, Broad promised to become a fast bowler. He isn't a fast bowler. He also promised to become an all-rounder. He isn't an all-rounder. In fact, he probably isn't even an opening bowler.
Stuart Broad bowls at 80-odd miles an hour and he does a decent job. Every now and again, he'll find the right length on a pitch which suits him reasonably well and he'll take a five-for. Sometimes you'll get some lower order runs from him. Sometimes his heel will flare up and he'll miss a couple of matches.
That sounds a bit dismissive of his ability, but is that offering really so bad? A tall, reliable fast-medium bowler is something every team hankers for. If we don't expect the bastard offspring of Michael Holding and Brian Lara we can be quite happy with that.