2
minute read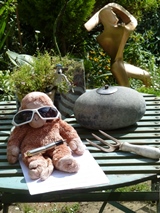 Bananarama Monkey-Face writes:
I'm originally from Pickering, so I always get very excited when I come up to North Yorkshire with Mum, Dad and brother Hippity. All the more exciting this time, because Mum and Dad had arranged, as part of their trip, to go to t'cricket at Scarborough for t'day.
It was first time for Mum and Dad, Scarborough cricket, but Hippity and I had been before some years ago, to report on a match for MTWD. I must warn you, if you click on that MTWD link, you might read stuff actually about cricket.
Mum and Dad were going to be all poncey in t'pavilion and that for most o't'day, so Hippity and I said we'd stay on t'bed in t'hotel. But once Mum and Dad set off for t'ground, we hot-footed it using a short cut across t'beach, got to t'ground before them and secreted ourselves in t'sizeable crowd.  We could get home before t'oldies same way, so they'd be none t'wiser.
Local folk in Scarborough are incredibly friendly and made us feel very welcome. There were lots of other youngsters there – school holidays had just started – so Hippity and I didn't look out of place.
Towards t'end of t'day's play, quite a lot of people from t'crowd left, apparently because t'local guest houses tend to serve tea (that's dinner to you snobby southerners) on t'dot of six-thirty. A swarm of local seagulls saw their opportunity and swooped in to scavenge t'scraps, over-running large swathes o't'outfield. For a while, seagulls stopped play, as t'umpires tried to get t'players to clear t'gulls, with only limited success. I think this photo will be allowed on King Cricket, as it was taken during that break in play. Anyroad, I don't like rules and think that you'll all like this picture.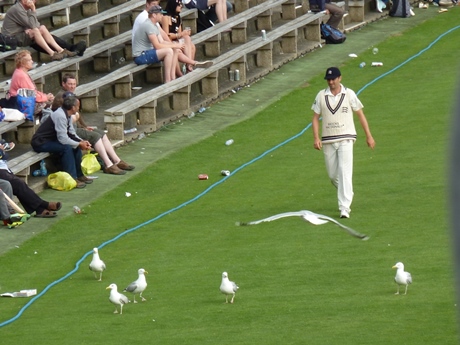 Once t'umpires realised that t'gulls were staying for t'evening, they decided to resume play despite; soon after that it really was time for stumps.
Mum and Dad were in a cracking good mood in Scarborough before t'cricket and an even more cracking good mood after it – all of us were. We'd all thoroughly recommend a day of county cricket at Scarborough – it's t'dog's bollocks.
Send your match reports to king@kingcricket.co.uk. If it's a professional match, on no account mention the cricket itself. If it's an amateur match, feel free to go into excruciating detail.