Extras
14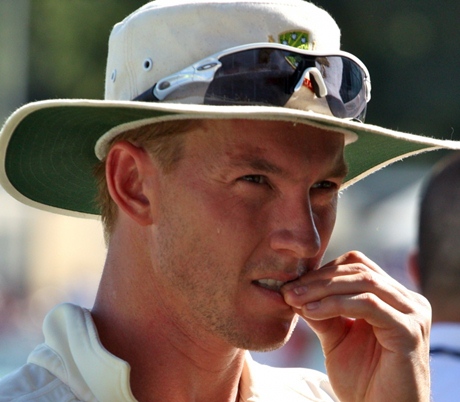 Test bowling average v England: 40.61 – what's not to like?
Yes, it's one of those weird statistics, but Brett Lee actually wasn't all that destructive in the Ashes. There was theatre and tension every time he came onto bowl, but all that happened was that the batsman thought: "Ooh, something's happening here. Better sharpen up." Maybe the adrenaline helped them cope.
Because there was adrenaline for all of us. That was Brett Lee's main attribute: he was undeniably a fast bowler. He was skilful, yes, but pace was his defining quality. Not the half-arsed, fly-by-night, four-over pace of a Shaun Tait, either. This wasn't gym muscles pace. It was sustained pace borne of athleticism and that weird mentality found in only true fast bowlers.
Fast bowling isn't just about speed. It's about scaring people. It's about looking like you're genuinely trying to hurt them and sometimes succeeding. It's also about sacrificing your own body to achieve that aim. Fast bowlers have a primal blood lust that monopolises their minds and all other thoughts and considerations cease to exist when they run in to bowl.
Fast bowling is amazing. Simply handing the ball to someone like Brett Lee in the middle of a sleepy afternoon session is enough for people to put the newspaper down and start watching. Fast bowlers bring corners and U-turns to predictable narrative, so you HAVE to pay attention.
If you can be a fast bowler, provide all of that and yet not actually do all that much to help Australia win the Ashes, you are absolute gold.
14 Appeals
19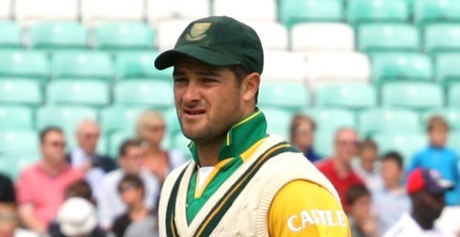 When someone retires, people are generally supposed to focus on that person's attributes and this has been particularly true for Mark Boucher after his career was ended by a horrendous incident where a bail cut his eyeball. However, here at King Cricket we don't have all that much lyrical waxation for Mark.
It's not that we don't like him or don't rate him, because we do. It's just that from our perspective his career has been characterised by low-key solidity and visible effort. We found him worthy and committed, but not especially eye-catching at any one moment.
We remember him best for the lesson he taught us about English wicketkeepers. His first tour to England was in 1998 and his wicketkeeping was bloody awful. It occurred to us afterwards that if he'd had to play half his matches in England, he'd have been dropped very early on in his career. This is a man who ended up with 999 international dismissals, so maybe we judge English wicketkeepers too harshly in what are trying conditions.
As a batsman, he was reasonable, but with the priceless quality of always appearing to be doing his absolute best. Having people like that in the opposition gives a match integrity and status. That is vital for spectators, so thanks for that Mark, and we do hope you recover okay.
19 Appeals
10
Why does no-one tell us these things? That title should perhaps read 'there was a cricketer called Julius Caesar' but a little ambiguity never harmed anyone.
Our Julius Caesar was a Surrey short-arse who was 'a fine steady bat' whose fielding at point was 'extremely beautiful'. Apparently, he could also 'write with a legible hand' which is a quality we always look for in a player.
He played in the 19th century and it's a sign of those times that he played for England even though his first-class batting average ended up as 15.78. Other career highlights include playing for "12 Caesars" with 11 of his family and generally being convinced that the hotels he was staying in were going to burn down.
10 Appeals
13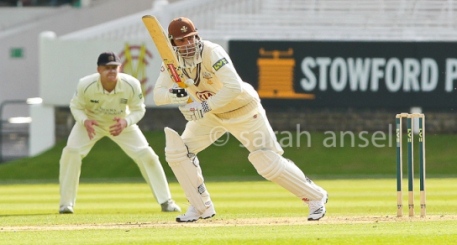 We long ago had our say about whether Mark Ramprakash could have been an England great if he'd been treated differently. Our stance is: 'Well maybe, but that don't change owt'.
Today, for once, we'd like to focus on what he DID achieve, because that was pretty extraordinary. Scoring 2,000 runs in a season again and again and hitting a hundred first-class hundreds. Batsmen like that don't come around too often. Mark Ramprakash should be lauded without reservation.
Competing in a different event
If you look upon county cricket as being something separate, rather than being a step below Test cricket, then Ramprakash is all but peerless. We're aware that view doesn't entirely stack up, but at the same time, there are plenty of Test greats who couldn't achieve what he did.
There's a big difference between hitting an immaculate cover drive and compiling a century and there's a similar gap in achievement between hitting 30 first-class hundreds and 114. The latter takes astonishing durability, endurance and relentlessness – not to mention a certain level of outright superiority for an extended span of time.
Mark Ramprakash hit two Test hundreds, but that was kind of a bonus. Hats off to one of county cricket's greatest batsmen.
13 Appeals
8
Moustachioed Texan supervillain, Allen Stanford, has been sentenced to 110 years in prison. We're pretty sure he hasn't been 'jailed for 110 years' as the headlines read at Cricinfo and the BBC. That seems to imply he'll serve the entire sentence. He won't.
Prosecutors will be gutted though. They were pushing for a 230-year sentence. They'll be incandescent with rage at the thought that in 50-odd years a 115-year-old Allen Stanford will be out Ponzi-ing about, goosing people's wives, laughing at his good fortune.
Here's our half-arsed history of the Stanford Super Series.
8 Appeals
16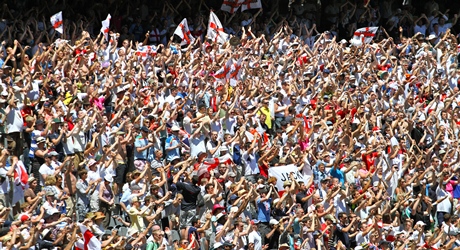 Let's get an early moan in about the five-match one-day series that's taking place between England and Australia this summer. It's not just the fact that it's pointless and elbows aside the build-up to a Test series against South Africa. It also sabotages the experience of watching next year's Ashes series as well.
The anticipation is half the joy of an Ashes series. Even though England and Australia play each other every other year, there's still ample time for the teams to develop in between. When the touring side arrives, there's a lot of excitement. They might have new players or older ones might have suddenly started excelling in Test cricket. There's an element of mystery that adds to our experience as fans.
Having an England-Australia one-day series the year before the Ashes undermines this almost completely. It's like tearing off a hunk of bread before it's finished baking. It tastes entirely unsatisfying and the loaf will be all buggered up when it finally is ready to eat.
With the 2013-14 Ashes series in Australia following just a few months after the 2013 Ashes, we'd better prepare for a lot of shitty bread. However, we don't particularly want to prepare by practising. This summer's one-day series is unwelcome. Who invited it?
16 Appeals
23
We were there, looking at a Cricinfo scorecard, waiting for the number to change. That's how people watch cricket these days, right? That's how we experience these supposedly momentous events.
We think we speak for most people when we say that we're glad that's out of the way. A hundred international hundreds is an odd statistic, amalgamating Test and one-day performances to arrive at a nice, round figure and the brouhaha surrounding it has detracted from some intriguing cricket.
Tendulkar's failures have sucked the limelight from those who deserved it and his 'failures' have taken the gloss of decent two-figure innings. Not his fault, but still irritating.
We have written a little bit about the achievement which we'll probably publish tomorrow. We wrote it months ago, it can wait another day. For now we just wanted to give an honest reaction. How do you feel?
Update: India's policy of rarely playing matches in Bangladesh would seem to have been vindicated by the fact that they lost this one. Impeccable procession micturition, Bangladesh.
23 Appeals
20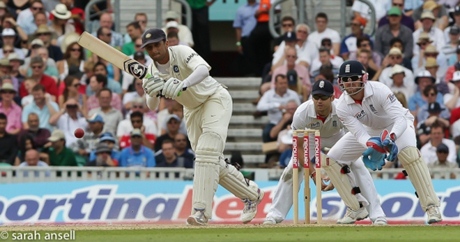 Looking through the archives, we've written surprisingly little about Rahul Dravid. Many of his best innings predate the site and also – partly as a result of that – we've always just assumed that everyone knew how good he was.
Forward defensives
They call him The Wall. It's meant as a compliment, but it misses the point. Walls do a job, but they're unremarkable and limited. You can paint them and dress them in wallpaper, but they basically do just one thing. If Rahul Dravid was just a guy in a helmet playing immaculate forward defensives, he would never have hit 13,000 Test runs and 10,000 one-day international runs.
Attacking shots
Dravid provided one of our formative cricket-watching experiences, if there is such a thing. It was a 1999 World Cup match against Sri Lanka when he and Sourav Ganguly shared a ludicrous partnership that took India from 6-1 to 324-2. Dravid was run out at that point and Ganguly then started hitting sixes to reduce Dravid's 145 to 'support act' status. That was so often the case. Best bridesmaid ever.
Subtle shots
Dravid could do things that no-one else could do. When it comes to batting averages, not every innings is equal. The last year or so of his Test career shows this as well as anything. There was a hundred in tough batting conditions in the Windies and then three in England against some very, very good bowling. He got his fair share of double hundreds, but his Test average of 52.31 was built on innings where the value was greater than the numbers might make you think.
At Nottingham, some of his singles required more skill and timing than 99 per cent of the boundaries that we see and with the going tougher than old biltong, they were arguably worth more too. It was batting for cricket connoisseurs: skill, experience, dexterity and intelligence changing people's perception of what was possible in that situation.
His 146 not out at The Oval – carrying his bat as a stand-in opener – was almost as impressive in its own way. Faced with an England first innings score of 591-6, Dravid's fellow Indian batsmen were showing all the resilience of a spaghetti portcullis. That can be infectious, but Dravid not only refused to get out, he showed younger team mates precisely how much better a batsman could be.
Just a Test cricketer?
There's a case for saying that Rahul Dravid has as much batting experience as any player in history. There are batsmen who've played more Tests, but his career has also coincided with the era of the one-day international and the rise of Twenty20 (in which he has held his own).
It's hard to imagine there's a situation in cricket that he hasn't faced. 120 to win, three wickets in hand, cloudy conditions, fifth day pitch, left-arm quick round the wicket? Yep, been there. 15-overs to go, run-rate eight-an-over, flat pitch, 40 degrees, finger-spinner, field spread? Yep, been there too. Been everywhere. Seen everything. Know what to do.
Maybe this is why it's time to go. It's great for fans to have a barometer of class; a tool which allows them to gauge how well everyone else is batting; but what does Rahul Dravid get out of playing on? We reckon he could bounce back from a poor tour of Australia, but why bother? He's 40 soon and there's virtually nothing left for him to see or do as a cricketer.
He's smart as hell and speaks better and more thoughtfully than most people on earth – maybe he can set the standard in some other way. We'll still miss him though.
20 Appeals
4
Allen Stanford's been found guilty of greed of the highest order so we thought we'd provide a few links to our coverage of his shitty cricket event from 2008.
Ah, there's nothing like reminiscing about mediocre times.
4 Appeals
4
We know this isn't 'news' as such, but Giles Clarke was named in the New Year's honours list. We believe he was awarded with a CBE for associating with known felons.
Some might say that we shouldn't hold one mistake against a man, which is true. It's all the other stuff as well.
Thanks to David for pointing this out to us. We long ago discarded the New Year's honours list as a complete irrelevance. No offence to the lass, but we don't really see the point of the monarchy and can't get too worked up when its head hands out chunks of the alphabet.
4 Appeals