Extras
10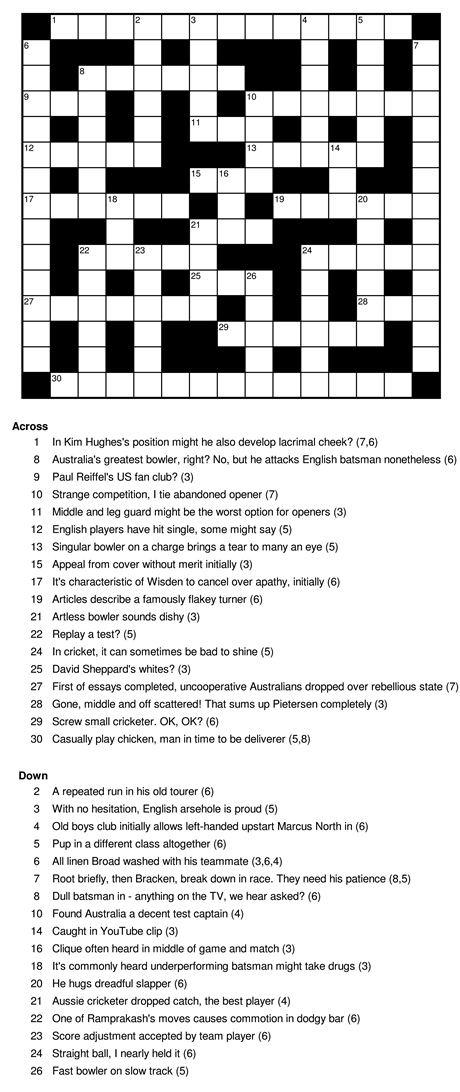 Bert writes:
I've done another crossword. I was going to wait till a full year had passed since the last one, but with the upcoming summer of cricket I thought it would be appropriate to do it now. So here it is – the 2013 King Cricket Ashes and Priestly Vestments Summer Crossword.
The theme of this year's crossword is The Ashes and Priestly Vestments. It's designed for all those who take an interest in Ashes Cricket and Priestly Vestments. I'm sure we've all had many a discussion about Priestly Vestments while sat watching the…
Oh all right, I give up. But you try fitting the names of 14 England and Australia test cricketers into a symmetrical crossword grid without leaving a space that can only be filled with a type of Priestly Vestment. It's not easy, I can tell you. So you've got what you've got, even if one of the answers seems to be "surplice" to requirements (thank you, you're all too kind). Believe me, if you're not au fait with the goings on of minor British celebs over the last couple of decades, it won't be the most obscure answer you have to find.
Suggested References: Chambers 2012, OED 2009, OK Magazine August 2000, Know Your Priestly Vestments 1387 (2nd Ed.)
For answers and explanations, click here.
10 Appeals
31
Armpits of Botham! It's a Test match tomorrow!
How do you prefer to follow a Test? A lazy assumption is that live TV coverage presents the best option, but we're increasingly questioning that. When a match is tight and it's the closing overs, it's hard to beat – but those situations are rare. We wonder how much we'd really miss live coverage if we didn't have access.
When we started this website in 2006, we didn't have Sky Sports and we're far from glued to the screen now that we do have it. We often listen to the match on the radio while doing other stuff before watching the highlights later on. This approach means we get to experience events as they happen without the Test entirely monopolising our time. It's not like we don't know what a cover drive looks like, after all.
It's funny the way people experience cricket. A few years ago, we were struck by a theme in the comments on a series of posts about the 2005 Ashes. It seemed like hardly anyone had actually watched the matches and yet this had precisely no impact on the excitement people felt.
How would you follow a Test match in an ideal world?
31 Appeals
88
It's an image featuring 50 cryptic clues to cricketing terms. It's called 'Whatzat!' The ECB have commissioned it and apparently there are international and county tickets to be won.
We're crap at this sort of thing. It took us quite some time to work out why bowler hats featured so prominently.
If you click the image, it should take you to a bigger, interactive version.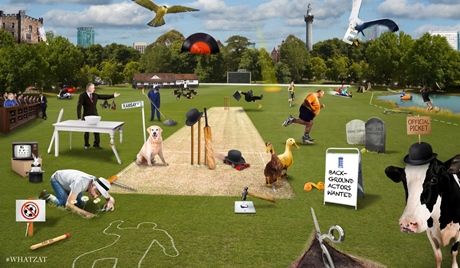 The fact that you lot like this sort of thing is very bad news for us, because it means we have to continue opening emails from marketing companies on the offchance that another one of them will do something well, even though that is HIGHLY unlikely.
88 Appeals
21
It's always reassuring when someone you suspect of being a complete dickhead confirms that yes, in fact they really are a complete dickhead.
"@courtnewsuk: Tom Maynard abandoned his Mercedes with the engine still running,Blackberry logged in to his Facebook page" Darwinism at work

— Edwina Currie (@Edwina_Currie) February 26, 2013
Currie has some funny ideas about why people die. She once said that Northerners die because of "ignorance and chips".
"Darwinism at work." She might like to ponder the fact that evolution has led to the human capacity to feel empathy. If that's beyond a particular individual, they should perhaps be reclassified.
21 Appeals
8
There's an interview with Ian Chappell over at The Guardian (in which he comes across very well) and there's a couple of things in it that we want to talk about.
The first is Chappell's view of the modern world of rest and rotation:
"I can understand that you've got to give the fast bowlers a breather every now and then, but to rest batsmen is bollocks."
Broadly speaking, we agree with this and we think it highlights our main issue with the fixture list and the necessity for rest. However, first we'll nitpick.
Physical rest versus mental rest
In general, batsmen – and perhaps spinners as well – don't need physical rest in the way that fast bowlers do. We therefore see little point in resting them from a particular match. However, we do think that they can occasionally benefit from skipping a tour or series in order to retain their enthusiasm.
If that sounds unduly soft, let us explain. It's not about how the poor millionaires are suffering. It's more to do with top level sport being about incredibly fine margins and how enthusiasm can ensure that a player fully engages with practice and preparation and all that crap. If you want a batsman at his best for a particular Test series, enthusiasm is one of the ingredients you need and if you've eroded that by picking him for a seven-match one-day international series, you'll have to settle for him performing at 90 per cent or whatever.
The imbalance
But that isn't really the issue that's raised by Chappell's comments. What bothers us is the imbalance. If fast bowlers need resting more than batsmen, you're forever pitting one nation's very best batsmen against 'some of the better bowlers' from another country.
We suppose this comes back to that question of whether Test cricket should be about identifying the best team or the best squad. Part of us is fine with modern cricket being about having a great stack of bowlers to pick from. It's a decent measure of a nation's strength and it's the same for everyone. However, another part of us thinks it should be about trying to put together a McGrath, Gillespie, Lee and Warne or a Roberts, Holding, Croft and Garner.
Those sorts of attacks test the best batsmen in a way that 'the best options currently available considering we've got half an eye on the next match as well' don't and it therefore feels like something is missing from the game at the top level as a consequence.
We've something else to say arising from Chappell's interview, but we'll save that for tomorrow. That's right, it's a double-update weekend. Whatever next?
8 Appeals
23
England Lions are in the process of playing (and losing) 'unofficial ODIs' against Australia A. Even though it's of no consequence whatsoever, we aren't happy with that label.
ODI stands for one-day international, but if two sides defined by their players being from particular countries play each other, is that necessarily an international match? We suppose it is, but to us the label 'one-day international' describes the top level of one-day cricket and nothing else.
This is kind of a joke anyway with few nations fielding their first choice team in any given ODI. Selectors tend to resort to the logic of saying that whichever players are picked, that by definition constitutes a 'first choice XI' because otherwise they would have picked someone else. Even so, at least there's some pretence of selecting the best team, whereas Australia A and England Lions are, at best, second best.
As far as we're concerned, England Lions and Australia A are playing plain old one-day matches. We don't need to upgrade them to internationals and then downgrade them by labelling them 'unofficial'.
There are so many things by which to be irritated in life, but sometimes it's important to really latch onto the least consequential and least logical of those in order to distinguish yourself from everyone else.
23 Appeals
16
Here's a question: if all records and memory of Test history were erased, how would you select your playing XI for the next match? Would the side differ from the one that would take the field normally?
There's always context. There are always past Test achievements to go off. Many players earn a guaranteed spot over time, but their initial selection wasn't always so cut and dried. Imagine all that information has gone and you're starting from scratch. How do you go about your task?
Averages
Do you go off batting and bowling averages? If you did that, the India side would feature Ajinkya Rahane, Rohit Sharma and Subraniam Badrinath. Some would argue that a couple of those players should be featuring, but it's striking that none of them do. Manoj Tiwary would also be playing and Sachin Tendulkar would only just eke out Abishek Nayar.
But that's poor use of statistics. Maybe you'd look at the players' averages over the last few years or try and weight averages in some way to lessen the effects of high-scoring matches.
In-depth statistics
Or maybe you'd go all Moneyball
and look for the meaningful statistics behind the averages. How reliable is that forward defensive? Does the batsman have any weaknesses against particular types of bowling? What proportion of a bowler's deliveries are dot balls and how consistent are they in terms of line and length?
Strategy first or players first?
Questions about bowlers are particularly complex, because what exactly are you looking for? Do you have a strategy in mind for which you'll find the right bowlers, or will you find the best bowlers and then devise your strategy? If the latter's the case, how do you compare an accurate seam bowler with a less accurate, but highly skilled, swing bowler?
What's your point here?
Dunno. We just wonder how much of an impact history and prejudice have on selection, we suppose. We wonder whether a selector without preconceptions would pick some unexpected players.
Don't suppose it matters really. So, er, what are you doing this weekend? Anything interesting? No?
16 Appeals
22
Welcome to the third and final part of Cricket's Greatest Dot Balls. We hope it's been worth the wait as we now revisit perhaps the greatest dot ball of them all.
The backdrop
It was the fourth Test of the 1999 Test series between England and New Zealand, a momentous match which saw debuts for both Darren Maddy and Ed Giddins and which also allowed the British public to wave farewell to Ronnie Irani. It was New Zealand's second innings and Alan Mullally was annoyed because Ed Giddins had just snaffled the prize wicket of Roger Twose.
Mullally was really ticking and Craig McMillan was the poor unfortunate who was set to be on the receiving end. Mullally's opening spell had been characterised by a lot of deliveries being left alone wide of off stump and he had been accused of wasting the new ball. Now, he was ready to make amends.
The dot ball
Mullally approached the crease with a real spring in his saunter and delivered the ball with real intent at genuine fast-medium pace. McMillan only just had time to judge that it was going well wide of off-stump, but he was smart enough to withdraw his bat so that there was no chance of an edge. Dot ball.
The aftermath
Mullally got his man LBW a short time afterwards, although it was probably going over the top. He would go on to play three more Tests.
McMillan played plenty more Tests and memorably hit hundreds against both Zimbabwe and Bangladesh within a 12-month period. In his final Test, against Australia, he was denied the opportunity to bat in New Zealand's follow-on innings due to persistent rain.
Roger Twose's dismissal by Ed Giddins sadly marked the end of his Test career. He now works in banking.
22 Appeals
12
Hello and welcome to part two of our three-part feature, Cricket's Greatest Dot Balls.
The backdrop
It was the fourth Test of the 1999 Test series between England and New Zealand, a match in which Ed Giddins was making his Test debut. England had yet to make a breakthrough in New Zealand's first innings and so Nasser Hussain turned to a young man by the name of Ronnie Irani. No-one knew quite how signficant this cricketer was going to become. Matthew Bell was facing.
The dot ball
Irani ran in, ball in hand. He was doing everything right. The ball angled into the right-hander's pads and Bell attempted to work it to leg, succeeding only in scuffing the ball towards square leg. For a split second, he thought about taking a run, but realistically there wasn't one there, so he didn't.
The aftermath
Sadly, this would prove to be Irani's final Test match. He finished with a Test batting average of 17.20 and with three wickets at an average of 37.33. In contrast, Bell would go on to play another 12 Tests for New Zealand, hitting hundreds against both Pakistan and Bangladesh.
12 Appeals
12
Welcome to our new, three-part series, Cricket's Greatest Dot Balls. We hope you like it.
The backdrop
It was the fourth Test of the 1999 Test series between England and New Zealand. Ed Giddins was making his Test debut and no-one knew quite how significant that was going to prove. Early in his first spell of bowling, Matt Horne was at the crease. How would Giddins bowl to this competent right-hand batsman?
The dot ball
Giddins ran in, as he always did – he never walked, crawled or made use of any kind of vehicle. As he approached the crease, he was thinking about bowling the ball, which he then did. The delivery was straight and wide of off-stump. Horne judged that it posed no immediate threat and therefore opted not to play a shot. Dot ball.
The aftermath
Matt Horne would go on to play 35 Tests for New Zealand, averaging in excess of 28. Ed Giddins would go on to reveal that his full name was Edward Simon Hunter Giddins. Upon learning that he had two full names, England dropped him.
12 Appeals