Extras
23
Someone stated this as fact during commentary on one of the World Twenty20 games. Can't remember who. Some idiot.
He said that fans didn't want to see wickets, they wanted to see loads of fours and sixes. He spoke about 'fans' as if they were an entirely different species, rather than being the very same people who were actually listening to him speak.
The thing is, when the answer is: "Yes, more boundaries please," you have to examine the question. The fact is that you can't have more boundaries with all other things remaining equal, just like you can't live off salt and pepper chicken wings and real ale without developing a fondness for elasticated waistbands. There are consequences.
Would you like to see more boundaries, but fewer exciting finishes or fewer boundaries and more tight finishes? No-one asks that, but bigger scores tend to mean a wider spread of scores as well.
However, people just identify something ostensibly appealing and consider it in isolation, as if life is just a randomly selected collection of delightful ingredients. It isn't – the relationships between the ingredients matter as well. Haddock and caramel simply do not go together.
It's pretty clear that the excitement of a four or six in large part derives from the match situation. In low-scoring games, they have more impact and they mean a great deal more when the match is in the balance.
Anyway, none of this news to sentient beings. We're not here to explain things that don't need explaining. We're here to express profound irritation that someone we can't identify presented something that wasn't true as if it were a fact.
23 Appeals
10
Or so they say, yet in the World Twenty20 tickets were bought by Afghanistan, Bangladesh, Ireland and Zimbabwe and none won so much as a tenner.
Twenty20 isn't a lottery. The margins are smaller because it's a shorter game and therefore luck can perhaps play a larger part than in other formats, but it is wrong to call it a lottery.
The better teams have a better chance of winning, but nothing is guaranteed. That's true of all sports, although the degree to which it is true varies. To enjoy Twenty20, you have to accept that luck plays a part without focusing on that to the exclusion of all else. The bigger the gap in quality between two teams, the less luck matters.
May the best team win. (But maybe it won't.)
10 Appeals
6
They are on a separate page from the crossword itself. That way, if you happen to meet someone who's into both cricket and cryptic crosswords (at your next AA meeting, for example) you can send them a link and they can attempt the crossword without having the answers staring them in the face.
Bert has also rather kindly provided explanations for each of the answers, so those of you who haven't completely severed your connection with the real world can now do so, safe in the knowledge that you now have cryptic crosswords to keep you company. You have a new time-consuming solitary activity to pass the time until the final sip of Night Nurse signals that it's time for the cats to start eating you.
The explanations are in Word format because we couldn't be bothered reformatting Bert's original document.
Round of applause for Bert's efforts, everybody. Cracking work.
Answers and explanations can be found here.
6 Appeals
36
Bert writes
It's time to move on. I'm bored with shenanigans. There's only a certain amount of shenanigans a man can put up with. We need to get back to what unites us, which is cricket, not what divides us, which is, er, cricket. Anyway, I don't want to see any more cross words.
Therefore, here is a crossword.
All cricket fans like crosswords. It's one of the things that goes into the rucksack for the day – flask, sun cream, flick-knife, newspaper with crossword. You sit, glance at the cricket, ponder the crossword awhile, glance up, wish you'd watched that hat-trick, then shrug and write REREDOS in 19 across as compensation. This one's even better, because it's a special King Cricket themed crossword. Solving it requires a combination of general cricket knowledge and a deep understanding of this website, plus the twisted mentality bordering on madness of a cryptic crossword solver. In other words, it's for YOU LOVELY PEOPLE. I hope you enjoy it.
There is NOT a FANTASTIC PRIZE for the first correct entry.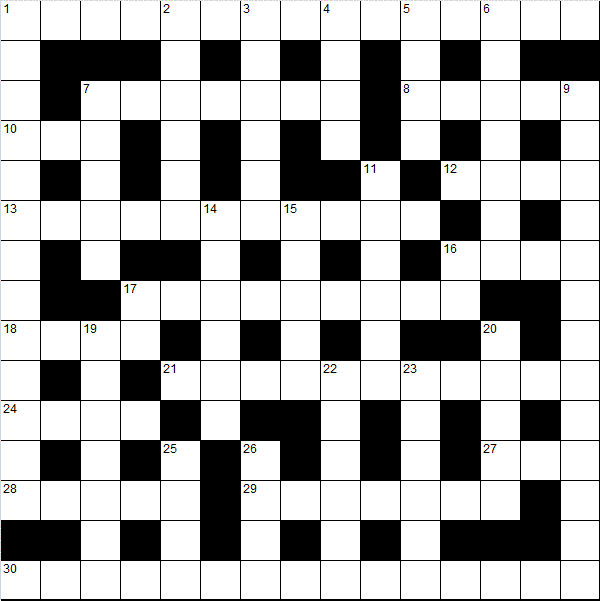 Across
1 Ensuring Cinders stays at home (7,3,5)
7 De Villiers and crew outside party showing midriff (7)
8 Dance as SA left in a mess (5)
10 Kiwi, bespectacled and befuddled (3)
12 Two tests were linked (4)
13 Right dolt manoeuvred to have the money to buy the true home of cricket (3,8)
16 Disagree with "No run", getting into fevered state (4)
17 Deceive about what Mitch invariably does with a ball (9)
18 Useful, short, and in charge of England (4)
21 Relative to a small mass, insect is the biggest thing on the web (4,7)
24 See 16d
27 Hear Brett in meadow (3)
28 Young and without news from Melbourne (2,3)
29 Star batsman, to be frank (7)
30 In acts, animals behaving as we have come to expect (11,4)
Down
1 Execute gamespace skillsets! Where can we find such meaningless drivel? (5,2,6)
2 Not out! Trueman was in a league of his own (6)
3, 20 Cricket is not a chance occurrence (4,2,5)
4 Placed inside batting glove to improve bat control (4)
5 See 17d
6 Keeping Peter Willey's crack partner (7)
7 First half of one day game changed, but it's still a positive point (5)
9 Separated from nation's First Couple – Princess reportedly attracted composer (6,7)
11 A right arse, making single innings deficit (6)
14 Point comes in to dislodge bail – a rapid descent follows (6)
15 Throw, leading to brief affair (5)
16, 24 Skated around scorer's position
17, 5 Mary's confused by initial explanation – is Giles the right man for English cricket? (2,4)
19 Charlton is King! Now see how he dismisses us (7)
20 See 3
22 Kent taking drug brought shame to English cricket (6)
23 Make bat advertisement in paper (6)
25 Singular leaves, but still gets to run through (4)
26 Cute, short short message from chatty cricketers (4)
An Excel version of this crossword can be downloaded here. Answers to follow at some point.
The answers can be found on this page.
36 Appeals
44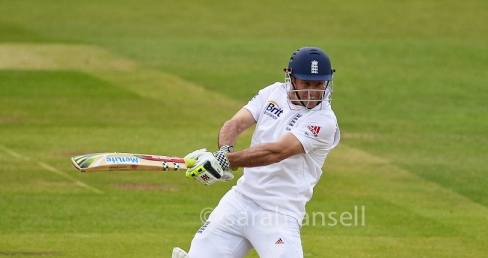 Andrew Strauss retires from cricket. If Nasser Hussain was 'do as I say' and Michael Vaughan was 'relax and play how you want' then Strauss was 'for Christ's sake, don't do anything silly'.
He was a bit establishment for our tastes and his interviews were even more bland and predictable than his on-field decisions, but people involved with the England team rate him highly and they know him better than we do. There's also the simple fact that England won a great many matches under his captaincy and that is, after all, the entire point.
The Ashes victory in Australia was clearly the high point, but he also ensured England were all but unbeatable at home during his tenure. That changed this summer and this is significant. It's hard to avoid the sense that everything's kind of falling to pieces at the minute. Many have pointed out that few captains leave on a high, but there have been smoother handovers. Cook finds himself with a great deal of work to do.
In many ways this is a further test of Strauss's captaincy. The on-field stuff's finished, but the long-term planning for which he is so well-regarded will continue to come under scrutiny. The succession-planning has already given England their next captain, so that bit's better than usual. However, set against that is the fact that the team are losing and have lost a major player because they couldn't find a way of getting on with him.
This isn't to nitpick. It's just to point out that long-term planning isn't a matter of aiming for an Ashes series and clapping yourself on the back if you win it. If you're an England captain, it also involves ensuring the house isn't a complete shit-tip for the next tenant.
We're disappointed at the nature of his exit, because the drama and goodwill that ensues masks failings and means he doesn't have to answer for the side's deterioration over the last year. However, overall, we are very happy with Andrew Strauss's performance as England captain. We'll give him a B+
44 Appeals
29
Usain Bolt hasn't got much left to prove as a sprinter. Shane Warne has suggested he might like to try Twenty20 cricket instead. 'Why not play in Australia's Big Bash?' he said. The Melbourne Stars franchise has now opened negotiations with Bolt's management company.
Wherever Bolt appears, you get extra viewers, so the commercial benefits are obvious. In terms of the cricket, Bolt said:
"I don't know how good I am. I will probably have to get a lot of practice in."
He did play junior cricket and so isn't a complete incompetent, but how would his presence affect public perception of the competition as a whole?
Cricketers are often at pains to tell us just how much time and effort they invest in perfecting Twenty20 skills. If they're competing against someone who has been invited to play based on his fame and who has put in just a few months' practice, what does that say about the competitiveness and integrity of that tournament?
Sport can be a light-hearted knockabout, but only really for one-off events. If you're trying to build something that people will follow for years, you need the edge that comes through competition.
That's where the tension comes from. That's what makes sport. Sports entertainment is something entirely different and must be marketed in a different way.
The Big Bash has a choice to make and the decision will reflect on the shortest format wherever it is played.
29 Appeals
14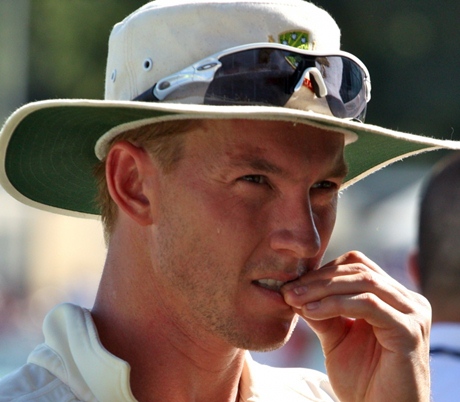 Test bowling average v England: 40.61 – what's not to like?
Yes, it's one of those weird statistics, but Brett Lee actually wasn't all that destructive in the Ashes. There was theatre and tension every time he came onto bowl, but all that happened was that the batsman thought: "Ooh, something's happening here. Better sharpen up." Maybe the adrenaline helped them cope.
Because there was adrenaline for all of us. That was Brett Lee's main attribute: he was undeniably a fast bowler. He was skilful, yes, but pace was his defining quality. Not the half-arsed, fly-by-night, four-over pace of a Shaun Tait, either. This wasn't gym muscles pace. It was sustained pace borne of athleticism and that weird mentality found in only true fast bowlers.
Fast bowling isn't just about speed. It's about scaring people. It's about looking like you're genuinely trying to hurt them and sometimes succeeding. It's also about sacrificing your own body to achieve that aim. Fast bowlers have a primal blood lust that monopolises their minds and all other thoughts and considerations cease to exist when they run in to bowl.
Fast bowling is amazing. Simply handing the ball to someone like Brett Lee in the middle of a sleepy afternoon session is enough for people to put the newspaper down and start watching. Fast bowlers bring corners and U-turns to predictable narrative, so you HAVE to pay attention.
If you can be a fast bowler, provide all of that and yet not actually do all that much to help Australia win the Ashes, you are absolute gold.
14 Appeals
19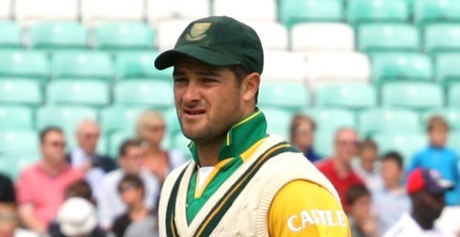 When someone retires, people are generally supposed to focus on that person's attributes and this has been particularly true for Mark Boucher after his career was ended by a horrendous incident where a bail cut his eyeball. However, here at King Cricket we don't have all that much lyrical waxation for Mark.
It's not that we don't like him or don't rate him, because we do. It's just that from our perspective his career has been characterised by low-key solidity and visible effort. We found him worthy and committed, but not especially eye-catching at any one moment.
We remember him best for the lesson he taught us about English wicketkeepers. His first tour to England was in 1998 and his wicketkeeping was bloody awful. It occurred to us afterwards that if he'd had to play half his matches in England, he'd have been dropped very early on in his career. This is a man who ended up with 999 international dismissals, so maybe we judge English wicketkeepers too harshly in what are trying conditions.
As a batsman, he was reasonable, but with the priceless quality of always appearing to be doing his absolute best. Having people like that in the opposition gives a match integrity and status. That is vital for spectators, so thanks for that Mark, and we do hope you recover okay.
19 Appeals
10
Why does no-one tell us these things? That title should perhaps read 'there was a cricketer called Julius Caesar' but a little ambiguity never harmed anyone.
Our Julius Caesar was a Surrey short-arse who was 'a fine steady bat' whose fielding at point was 'extremely beautiful'. Apparently, he could also 'write with a legible hand' which is a quality we always look for in a player.
He played in the 19th century and it's a sign of those times that he played for England even though his first-class batting average ended up as 15.78. Other career highlights include playing for "12 Caesars" with 11 of his family and generally being convinced that the hotels he was staying in were going to burn down.
10 Appeals
13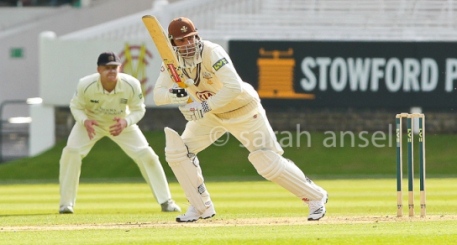 We long ago had our say about whether Mark Ramprakash could have been an England great if he'd been treated differently. Our stance is: 'Well maybe, but that don't change owt'.
Today, for once, we'd like to focus on what he DID achieve, because that was pretty extraordinary. Scoring 2,000 runs in a season again and again and hitting a hundred first-class hundreds. Batsmen like that don't come around too often. Mark Ramprakash should be lauded without reservation.
Competing in a different event
If you look upon county cricket as being something separate, rather than being a step below Test cricket, then Ramprakash is all but peerless. We're aware that view doesn't entirely stack up, but at the same time, there are plenty of Test greats who couldn't achieve what he did.
There's a big difference between hitting an immaculate cover drive and compiling a century and there's a similar gap in achievement between hitting 30 first-class hundreds and 114. The latter takes astonishing durability, endurance and relentlessness – not to mention a certain level of outright superiority for an extended span of time.
Mark Ramprakash hit two Test hundreds, but that was kind of a bonus. Hats off to one of county cricket's greatest batsmen.
13 Appeals