Extras
23
England Lions are in the process of playing (and losing) 'unofficial ODIs' against Australia A. Even though it's of no consequence whatsoever, we aren't happy with that label.
ODI stands for one-day international, but if two sides defined by their players being from particular countries play each other, is that necessarily an international match? We suppose it is, but to us the label 'one-day international' describes the top level of one-day cricket and nothing else.
This is kind of a joke anyway with few nations fielding their first choice team in any given ODI. Selectors tend to resort to the logic of saying that whichever players are picked, that by definition constitutes a 'first choice XI' because otherwise they would have picked someone else. Even so, at least there's some pretence of selecting the best team, whereas Australia A and England Lions are, at best, second best.
As far as we're concerned, England Lions and Australia A are playing plain old one-day matches. We don't need to upgrade them to internationals and then downgrade them by labelling them 'unofficial'.
There are so many things by which to be irritated in life, but sometimes it's important to really latch onto the least consequential and least logical of those in order to distinguish yourself from everyone else.
23 Appeals
16
Here's a question: if all records and memory of Test history were erased, how would you select your playing XI for the next match? Would the side differ from the one that would take the field normally?
There's always context. There are always past Test achievements to go off. Many players earn a guaranteed spot over time, but their initial selection wasn't always so cut and dried. Imagine all that information has gone and you're starting from scratch. How do you go about your task?
Averages
Do you go off batting and bowling averages? If you did that, the India side would feature Ajinkya Rahane, Rohit Sharma and Subraniam Badrinath. Some would argue that a couple of those players should be featuring, but it's striking that none of them do. Manoj Tiwary would also be playing and Sachin Tendulkar would only just eke out Abishek Nayar.
But that's poor use of statistics. Maybe you'd look at the players' averages over the last few years or try and weight averages in some way to lessen the effects of high-scoring matches.
In-depth statistics
Or maybe you'd go all Moneyball
and look for the meaningful statistics behind the averages. How reliable is that forward defensive? Does the batsman have any weaknesses against particular types of bowling? What proportion of a bowler's deliveries are dot balls and how consistent are they in terms of line and length?
Strategy first or players first?
Questions about bowlers are particularly complex, because what exactly are you looking for? Do you have a strategy in mind for which you'll find the right bowlers, or will you find the best bowlers and then devise your strategy? If the latter's the case, how do you compare an accurate seam bowler with a less accurate, but highly skilled, swing bowler?
What's your point here?
Dunno. We just wonder how much of an impact history and prejudice have on selection, we suppose. We wonder whether a selector without preconceptions would pick some unexpected players.
Don't suppose it matters really. So, er, what are you doing this weekend? Anything interesting? No?
16 Appeals
22
Welcome to the third and final part of Cricket's Greatest Dot Balls. We hope it's been worth the wait as we now revisit perhaps the greatest dot ball of them all.
The backdrop
It was the fourth Test of the 1999 Test series between England and New Zealand, a momentous match which saw debuts for both Darren Maddy and Ed Giddins and which also allowed the British public to wave farewell to Ronnie Irani. It was New Zealand's second innings and Alan Mullally was annoyed because Ed Giddins had just snaffled the prize wicket of Roger Twose.
Mullally was really ticking and Craig McMillan was the poor unfortunate who was set to be on the receiving end. Mullally's opening spell had been characterised by a lot of deliveries being left alone wide of off stump and he had been accused of wasting the new ball. Now, he was ready to make amends.
The dot ball
Mullally approached the crease with a real spring in his saunter and delivered the ball with real intent at genuine fast-medium pace. McMillan only just had time to judge that it was going well wide of off-stump, but he was smart enough to withdraw his bat so that there was no chance of an edge. Dot ball.
The aftermath
Mullally got his man LBW a short time afterwards, although it was probably going over the top. He would go on to play three more Tests.
McMillan played plenty more Tests and memorably hit hundreds against both Zimbabwe and Bangladesh within a 12-month period. In his final Test, against Australia, he was denied the opportunity to bat in New Zealand's follow-on innings due to persistent rain.
Roger Twose's dismissal by Ed Giddins sadly marked the end of his Test career. He now works in banking.
22 Appeals
12
Hello and welcome to part two of our three-part feature, Cricket's Greatest Dot Balls.
The backdrop
It was the fourth Test of the 1999 Test series between England and New Zealand, a match in which Ed Giddins was making his Test debut. England had yet to make a breakthrough in New Zealand's first innings and so Nasser Hussain turned to a young man by the name of Ronnie Irani. No-one knew quite how signficant this cricketer was going to become. Matthew Bell was facing.
The dot ball
Irani ran in, ball in hand. He was doing everything right. The ball angled into the right-hander's pads and Bell attempted to work it to leg, succeeding only in scuffing the ball towards square leg. For a split second, he thought about taking a run, but realistically there wasn't one there, so he didn't.
The aftermath
Sadly, this would prove to be Irani's final Test match. He finished with a Test batting average of 17.20 and with three wickets at an average of 37.33. In contrast, Bell would go on to play another 12 Tests for New Zealand, hitting hundreds against both Pakistan and Bangladesh.
12 Appeals
12
Welcome to our new, three-part series, Cricket's Greatest Dot Balls. We hope you like it.
The backdrop
It was the fourth Test of the 1999 Test series between England and New Zealand. Ed Giddins was making his Test debut and no-one knew quite how significant that was going to prove. Early in his first spell of bowling, Matt Horne was at the crease. How would Giddins bowl to this competent right-hand batsman?
The dot ball
Giddins ran in, as he always did – he never walked, crawled or made use of any kind of vehicle. As he approached the crease, he was thinking about bowling the ball, which he then did. The delivery was straight and wide of off-stump. Horne judged that it posed no immediate threat and therefore opted not to play a shot. Dot ball.
The aftermath
Matt Horne would go on to play 35 Tests for New Zealand, averaging in excess of 28. Ed Giddins would go on to reveal that his full name was Edward Simon Hunter Giddins. Upon learning that he had two full names, England dropped him.
12 Appeals
8
A one-day international (ODI) rule change is nothing new. They fiddle with the regulations more often than Sir Jimmy fiddled with… no, that's not an acceptable analogy.
While rule changes are rarely in themselves interesting, they do just about become worthy of discussion when you think about the impact on a team's tactics and strategy. The latest change is that at no point in the innings will the fielding side be allowed five fielders on the boundary, as was previously the case. This basically means that there's always a boundary shot available, but singles are slightly harder to come by.
Clearly this is an attempt to bring more big shots to the middle overs, but will it work like that? So long as the captain isn't a complete tool, the obvious boundary shot is always going to be the riskiest. Set against that is the fact that with more single-saving fielders, it becomes an even bigger focal point for the batsman.
A lot of the bigger-hitting one-day batsmen boast more brawn than finesse, but this might not help them when there's only really one viable segment of boundary to aim for. Skill and timing should bring more fours than mindless heaves, in which case what kind of batsman do you want at the crease during these passages of play and what approach should they take?
Do you still try and work the ball around, accepting that there'll be fewer singles available, or do you try and exploit the gap? Clearly tactics have to be flexible, but could this change have an impact on which approach is given greater emphasis? Does the extra inner ring fielder sound the death-knell for the nurdler or is it really just a matter of the same batsmen playing slightly differently?
8 Appeals
30
The cricket news is still boring us, so here's another way to improve a vastly inferior sport by making it slightly cricket-related.
To play Cricket Snooker, you will need:
A snooker table and balls
A snooker bat/stick
The kind of haircut seen on footballers about six years ago
One of you 'bats' and pots colours. The other 'bowls' and pots reds.
Colours score the same as in snooker, so you can rather bizarrely hit fives and sevens, which is quite exciting. Reds equal wickets. When there are no more reds, the innings is over and you swap.
Full rules can be found here. It doesn't say anything about playing wrong-handed when you're down to the tail, but you should definitely adopt that rule. You should also play in full whites and the batsman should don every piece of protective cricket gear that can be found.
30 Appeals
16
England lost again. According to Cricinfo, the weather was 'smoke' and then 'fog'.
Now, onto the important stuff: encouraging cricket to invade other sports. We've just learnt about Twenty20 cricket darts and we heartily approve of it. If we had any kind of memory for this sort of stuff, we'd memorise the rules and play it the very next time we were in a pub with a dartboard which no-one was using and where no-one could see us.
Basically, one of you throws darts to score runs and the other goes for the bullseye in order to take wickets. Then you swap. The entertaining part is that lower order and tail-end batting are simulated by having to throw wrong-handed with one, two or all three darts.
Winning despite rank incompetence is cricket at its best.
16 Appeals
12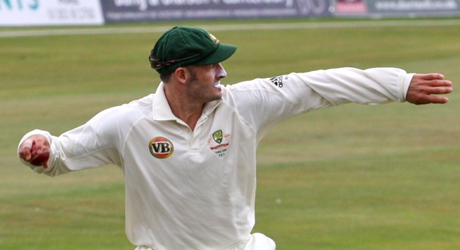 What happens to Mike Hussey's nickname now? Can you call someone Mr Cricket if their job is to inspect construction projects to confirm they comply with building regulations? We're assuming that's the kind of thing Mike Hussey will do after retiring – something dull that will allow him to be irritatingly officious.
He's been a surprisingly good international cricketer though – he'll always have that. People don't generally remark on Hussey's record that much because there's always been a feeling that he was going to have a brief, statistically freakish Test career after only being capped at the age of 30. However, he's actually hung about to the point where he's played 78 Tests (it'll be 79 if he doesn't contract pleurisy or something before the New Year Test).
To put his career in perspective, only eight Englishmen have ever scored more than his 19 Test hundreds and he's managed to average over 50 in a side that has frequently been utterly toss. He should probably get extra points for that. Unlike some of his predecessors, he's actually had to do some bloody work rather than just mincing his way towards declarations.
Hussey also carved himself a highly unlikely short format career as a 'finisher'. It's quite a CV. Hopefully that will count for something when he's job hunting next month. Bet he's picked out his interview tie already.
12 Appeals
24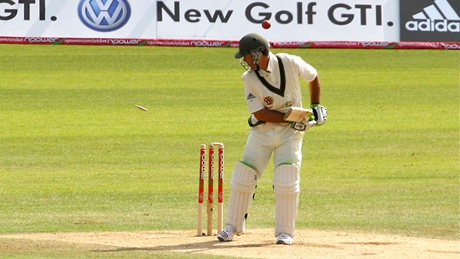 Take a look at this face. Tell us you don't instantly hate that face. You could pretty accurately track the progress of Ricky Ponting's career by our opinion of his face at various points in time.
It started badly. He made his first Test hundred in his first Ashes innings after Australia had been 50-4, so basically there was a strong desire for smug smile removal from the outset. However, it wasn't until around 2005 or 2006 that we wanted to plant our fist in his face with the most force.
Was the 2005 Ashes the turning point?
We can't quite work it out. He'd hit six hundreds in 18 innings in 2003, en route to a higher plane of obnoxiousness and he arrived in England in 2005 with us feeling much the same about him. Looking back, we're aware that the more Ponting's Australia lost, the more we warmed to him, but we're not entirely convinced this phenomenon was really all that noticeable following this series.
Maybe the first intimations of likeable qualities had been identified, but it can't have meant much as it was only a year later that England were mullered in Australia. This was also when Ponting's batting average reached its peak of 59.99 after scoring 142 in that bloody Adelaide Test.
Ricky Ponting's batting average
Let's try and forget just how fantastically irritating Ricky Ponting could be for a minute and instead consider that average. He retires with an average of 52.21, which is amazing, but leaves him immediately behind Mohammad Yousuf and with a fair few others above him. Had he retired in 2006, he would have been fifth. Crucially, he would also have played 53 Tests more than the most capped player above him.
That speaks of astonishingly prolonged consistency. That Adelaide hundred was his seventh of 2006 in eight Tests up until that point. Make no mistake, Ricky Ponting is a driven and extremely talented man.
Then what?
Then he went downhill a bit. Like many great batsmen, he probably had more confidence in himself than was actually warranted. That protective delusion is what gets them through the tough times, but it's also what can keep them hanging around, oblivious to the fact that everyone's enthusiastically clouding the vicinity with liberal quantities of Febreze.
This is when he won us over a bit though. He was a captain and a player who'd never really encountered tough times before, cricket-wise, and it was admirable to see that he wasn't a shirker.
His limitations as a captain were being exposed and his batting was deteriorating, but in a way this highlighted other qualities. The man is resilient and he feels a sense of duty. He's also fairly plain-speaking and honest and he loves cricket.
So, it turns out Ricky Ponting isn't a complete tool. It's just that he managed to keep this fact concealed from us for the first 14 years of his career.
Some more stuff about Ricky Ponting
Here are some links that we can't be bothered working into the main text. Don't feel you have to read them, but they might be welcome if you're avoiding doing work.
24 Appeals