10
Warwickshire are now top of the County Championship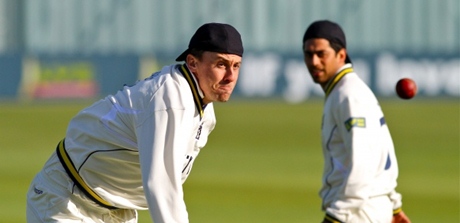 We're doing these county update posts for our benefit rather than yours. It's our way of keeping on top of things, because following county cricket is like trying to catch rain – you might get a handful, but you'll definitely miss most of it. People might also ask you why you're bothering.
For an example of how difficult it is to stay on top of things, we actually started writing a title about Nottinghamshire remaining top. They have two wins and a draw versus Warwickshire's two wins. However, we didn't bank on bonus points. We'll walk you through it. We'll walk ourself through it.
Nottinghamshire's crappy draw
The County Championship is like a contract for pretty much any form of modern technology. Something you'd think would be straightforward is actually spectacularly complicated. Unlike phones and TV and internet, the County Championship achieves this complexity via bonus points. Annoying as they are, they're pretty handy when there's rain around. Nottinghamshire drew with Somerset this week after being bowled out for 162 and conceding 445-2. As draws go, it was a pretty comprehensive defeat, which is why Somerset emerged with 11 points, whereas Nottinghamshire got only three.
Warwickshire's resounding win
Meanwhile, Lancashire were continuing to explore whether cricket teams actually need any batsmen. The answer is yes; yes they do. Warwickshire proved this by having two of their number score hundreds, even if one of them was batting at number nine. Bumped down a spot by the nightwatchman, Rikki Clarke hit 140, while Darren Maddy made 112 shortly after dismissing four of Lancashire's "batsmen".
Rikki Clarke is best known for his face and for being a hope-over-logic England all-rounder selection back in 2003. However, he's a cricketer to be respected these days, albeit largely for his increasingly impressive bowling. Warwickshire didn't need him to turn his arm over in Lancashire's second innings though. Not sure they even bothered bowling overarm.

You really should subscribe to our email updates - here's why
King Cricket T-shirts are actually surprisingly good quality
In protest, I shall abstain from eating throdkin until Lancashire are restored to their rightful place in the top half of the CC Division One table.

I appreciate that, as hunger strikes go, it is a relatively low-key affair. But still, I think my sacrifice sends a very clear message.
Oh the humanity!
Rikki Clarke's face: the gift that keeps on giving
http://www.espncricinfo.com/ci/content/image/455350.html?object=11724
"Maybe if I sneer, it'll soften the overall look…"

Heh heh. The thing about ridiculous portrait photos is that not only do they look ridiculous, they are almost certainly the best that the photographer could manage. In selecting that particular one, the photographer has rejected several dozen presumably worse ones.

"Right Rikki, give us a nice smile… yes, that's it, just a bit more of a smile… OK, but with a little more smiling for this one… yes, I know your face is hurting, but if we can just get a nice smile we'll be done and dusted… good, that's much better Rikki, if you could just make the corners of your mouth turn up at the edges a bit more, or even at all, like people do when they are smiling… I assume you've seen other people smiling, so if you could just do what they do…"
Only Finns (and maybe Estonians) can legitiamately have a name with a double "k" in it. I don't believe Clarke is either.
Weren't Warwickshire at the top of the County Championship at some times last season, KC? And didn't Lancashire win the County Championship last year, as I recall? And didn't Warwickshire not win the County Championship last year, despite being occasionally at the top of it?
The answer in each case is yes. As I said, Lancs are a shoo-in to retain their crown and become the dominant force in world sport.
To be fair, that photograph shows the earlier version of Clarke, Clarke 2003. While Clarke 2007 and the Clarke Vista were probably even more bug-ridden than the much vaunted 2003 version, it seems that Clarke 2010 and subsequent versions have worked rather better.
It's a shame we are shown a photo of that previous version. Word is, the more successful recent version looks even more absurd.
Looking absurd yet being effective is many a cricketer's pinnacle.
I am so pumped for Glamorgan v Yorkshire later in the season. Will Rob Croft bowl Jacques? Will Ryan Sidebottom take offence to Cosker and proceed to bowl a medium-fast bouncer? All are questions that I'm sure will be answered.