Price writes:
After driving down to Bristol on the Friday night, drinking a skin-full of Guinness, getting four hours sleep and suffering a packed train to Cardiff, we took our seats high up in the grandstand.
The raging hangover subsided (through the means of hair of the dog) and we sat enjoying the much cheaper beer than Lord's or the Oval, the brand new Test venue and the Barmy Army trumpeter belting out some of Australia's finest ditties (Neighbours, Home & Away, Tie me Kangaroo Down Sport etc.)
At lunchtime, Dan of 'a cricket hat on an unusual head' fame gave me my birthday present. It was an actual laminated set of Bat for the Draw Top Trumps he had spent hours making. I was absolutely beside myself with excitement: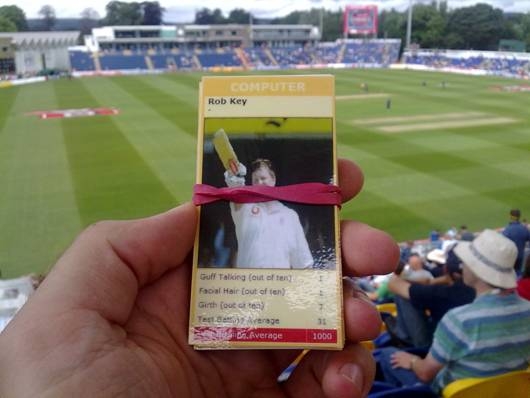 As the day drew on, the dark clouds moved in and the rain came down. We sat huddled under our umbrellas trying to pass the time waiting (in vain) for a break in the clouds. Dan suggested we play the Chocolate Bar – Movie title game (e.g. "The Horse Whisper", "City Snickers 2: The Legend of Curly Wurly's Gold") and when we ran out of ideas, the Politicians – Fruit game (e.g. "Che Guava", "Barrack Banana").
When we realised the rain was not going to stop, we hightailed it back to Bristol where we went and drank the infamous Exhibition Cider from the Coronation Tap. I remember nothing past 8pm. Dan tells me we had an amazing curry.
Thankfully we got a lift to Cardiff on Sunday, as in my ever worsening state I doubt I would have survived a train journey. Most of the day was somewhat downcast as although we were sat in the sunshine, there were lots of annoying Australians nearby gloating. (Not that there are any other kinds of Australians of course). However, come 6.40pm, their mood seemed to dampen, which was nice.

Send your match reports to king@kingcricket.co.uk – but on no account mention the cricket.