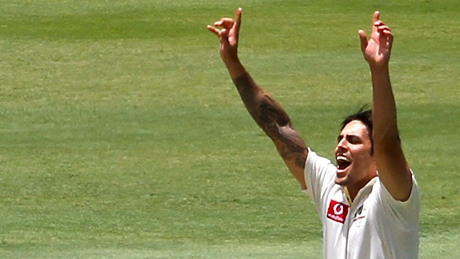 You've got to break partnerships in Australia. You've got to somehow take wickets when the ball ain't doin' a right lot.
This Australia bowling attack seems ill-suited to the task. Today one wicket fell – to Marcus North. No matter how flat the pitch, no Australian bowling attack should completely fail over the course of an entire day, but this one did. They even had a big first innings lead to help them apply pressure.
So what are they lacking? Basically, all of the qualities that England always look out for in their bowlers, having learnt from many days just like this one in previous Ashes series.
Height
Australia don't have a ganglatron of metronomy like Glenn McGrath or Stuart Clark. Their pace bowlers are all over six foot, but elite sport rewards the freaks and there's no-one you'd spot in a pub and think 'Jesus!' about. Their tallest bowler, Mitchell Johnson, entirely negates his height by delivering the ball from about mouth height
Pace
We get the impression that the speed guns at the Gabba are less generous than some others. They might even be accurate. Johnson is the quickest Aussie bowler and he's hovering around the mid-eighties with the occasional ball hitting 90mph (144kph). It's quick, but not terrifying. More pertinently, it's not negate-the-pitch quick.
Mystery spin
The mystery is how a worthy but essentially mediocre finger spinner like Xavier Doherty ever ended up playing for Australia. To make a Matthew Hayden style statement: his presence is fading the fabric of the Baggy Green.
All are very good bowlers
But none is good enough to operate effectively on a batting track when the sun's out. It's probably Johnson's job to break a partnership on those days, but the unpredictability that is his strength is a last resort for Australia in the absence of the above qualities elsewhere in the attack. Unpredictability is not the greatest strength.