2
minute read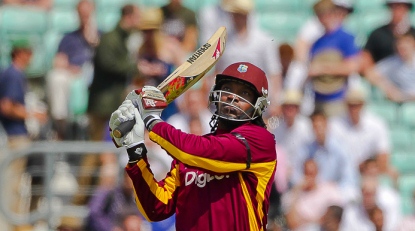 If you don't already know, Chris Gayle's unique selling point is that he likes women. That's how he defines and sells himself. Quite how vacuous a person has to be before they decide upon a characteristic shared by 90-odd per cent of men as being somehow self-defining is beyond us.
To make it stick, Gayle goes all in. The latest example saw him attempting to chat up a female reporter during a live TV interview. He did it because HE REALLY LIKES WOMEN – NO, LIKE WAY MORE THAN YOU DO.
Unsurprisingly, she wasn't interested.
There's a definite line between being 'a character' and just being sleazy and disrespectful. For example, when Gayle ignored the ramblings of old Etonian, former MCC president and ex-England manager, John Barclay, and asked him, "You get much pussy?" – that's funny. It's totally inappropriate, but there's a certain power dynamic at play where above all it just seems mischievous or amusingly oblivious.
When a reporter asks you a direct question and you ignore what she's saying to make a comment about her eyes, that's different. That's not mischievous. That's undermining her and making it impossible for her to do her job. In this instance, Gayle is the megabucks sports star; one of the big names of the whole damn event. It's a different dynamic.
A lot of people working in sport apparently don't see the difference.
The furore
As much as this is about Chris Gayle and what he said, it's probably more about the world that created him. Most people commenting on the issue have pointed out that he's been swanning about behaving like a naughty 13-year-old for many years now and has not just been left unchecked, but has effectively been encouraged. Chris Rogers makes the point that Gayle's laddish reputation has seen him put on a pedestal by the media.
We have the dubious pleasure of having to trawl through all of Gayle's tweets once a fortnight as part of our Twitter round-up for Cricinfo. The thing that always strikes us the most is not so much how he relentlessly promotes himself as some sort of fun-loving 'player,' but that there's always someone who finds him funny. He can say anything, literally anything – usually something totally straightforward about how he likes to party or how he likes women – and some retard will tweet him to tell him he's 'hilarious'.
We always assumed it was 12-year-old boys for whom English was a second language, but maybe it's sportsmen and members of the media.