2
minute read
Same as 2010. In fact, it's probably worth reading that article again because much of it still applies. We don't try and overthink the Lord Megachief of Gold award. We don't get too fancy with it. It was business as usual for Dale Steyn in 2013 and business brought him 51 Test wickets at 17.66.
Start as you mean to go on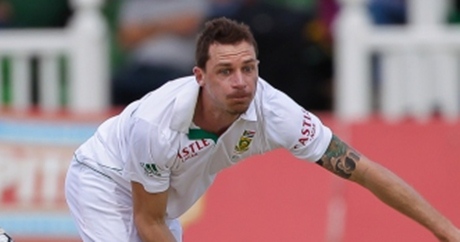 When you've racked up 525-8, as South Africa did against New Zealand back in January of last year, you brace yourself for a long, tough stint in the field. Only in your wildest dreams do you imagine that your opening bowler will take 5-17 in that sort of scenario.
For most bowlers, that would be the standout performance of the year – perhaps even in their entire career. However, as we know, Dale Steyn ain't most bowlers. He's a vicious threshing machine into which helpless Test batsmen are fed. He spits out husks. Against Pakistan in February, he conceded eight runs and spat out six husks.
It doesn't matter who you're playing against, or where: 6-8 is just stupid.
Worse figures, better bowling

What really swayed it for us, however, was Steyn's performance against India towards the end of the year. That highlighted the quality that separates him from those who are merely pretenders. Dale Steyn is simply unremitting. It's tempting to list synonyms to drive this point home, but you're smart people – you can read that one word and appreciate how much we mean it.
Even good bowlers can find themselves cowed from time to time. It might not be the opposition that cause this to happen – it might just be conditions – but at some point or other, pretty much every bowler finds themself ever so slightly disheartened. It's entirely natural. It's entirely logical. It would be freakish and delusional to feel any different.
In the first Test between South Africa and India, Dale Steyn took 1-61 and 0-104. In the second Test, India reached 198-1 and Steyn had conceded 62 runs without taking a wicket.
Did he relent? Did he bollocks.
His next 10 deliveries saw the departure of Cheteshwar Pujara for 70, Murali Vijay for 97 and Rohit Sharma first ball. Match and series suddenly veered down an unmarked side road. Then, at 316-5, he was at it again, dismissing MS Dhoni, Zaheer Khan and Ishant Sharma within the space of eight deliveries.
Steyn finished that innings with 6-100 and this is why he'll finish his career with a better average than Vernon Philander. Even when going for runs and with nothing to show for it, he was still hell-bent on dismissing batsmen. That, after all, is what Test cricket is all about.
Congratulations, Dale Steyn. You are 2013's Lord Megachief of Gold.