Sam writes:
It was a bank holiday, the latest in what seemed like a never-ending string of bank holidays. The weather was clear and breezy. We put our washing out to dry using a makeshift washing line running from the window of our first floor flat and tied to an unstable looking fence.
Our friends turned up at the allotted hour of 11am, allowing plenty of time for the journey from Surrey to Southampton. The designated driver for the day had not long passed her test, so there were a fair few nerves flying around as we tootled down the A3.
On arrival at the Rose Bowl I handed over my debit card to purchase two adult tickets at £20 each. The lady behind the counter did not ask me to type in my PIN or sign anything, but simply handed back the card and tickets.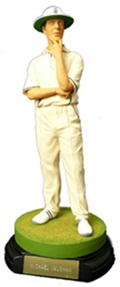 In order to avoid the inevitable debate about when to take lunch, we opted to start eating before the game commenced and not stop until it finished.
This mostly consisted of crisps, dip, cookies, more crisps, yoghurts, grapes, fairy cakes and chocolates.
We went to the shop where we mused on various themed trinkets. These included socks, sunglasses, salt and pepper holders in the shape of umpires, keyrings, cufflinks, letter racks, tankards, clocks, lapel pins and a tiny porcelain statue of Michael Vaughan for the bargain price of £99.99.
On the way out I took a picture of two of us standing next to a giant set of stumps.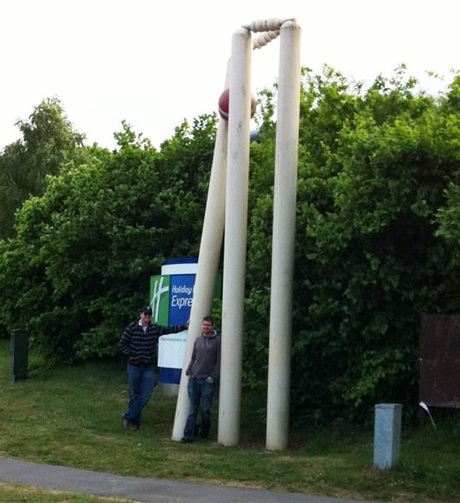 When we got home one of our tea towels had blown off the line.