3
minute read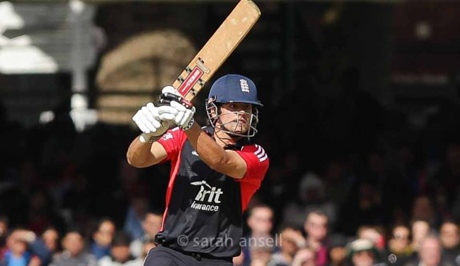 Alastair Cook says that he's doing everything he possibly can to try and turn his form around. This begs a rather obvious question. If you're practising really, really hard and doing everything you possibly can to prepare, but you're still not scoring runs – what does that actually say about your ability?
At least if you're dossing about in practice and turning up for matches half-cut, there's an obvious way to improve your returns. If you're preparing assiduously and you're still crap, it might be that you're simply not cut out for the job.
A bit of a plodder
Mike Atherton's doing a good job of not saying 'I told you so'. That's possibly because he's a mature, level-headed individual who has inexplicably found himself in the world of English cricket. Back when Cook was made one-day captain, Athers called him a plodder. A fair assessment, you'd have thought, but when Cook then made a bunch of runs in impressive fashion that summer, there were a few digs.
Verbal battles and wars. Fast forward three years and Cook has spent a hell of a lot of the intervening period being a plodder. Athers was fundamentally right and the case for making Cook one-day captain appears to have been exposed as a poor one. Most of the fans' anger revolves around what is (and isn't) happening now, but the real mistake came long ago. It's strange to say this about such a conservative organisation, but picking Cook as one-day captain was a gamble.
What happened to Cook's batting?
Is Cook out of form or is this actually the norm? Maybe it's the latter.
To provide some context, after six months or so as captain, we concluded that Cook was quite possibly England's best one-day batsman. Crucially, we qualified that with an 'at the minute'.
In the summer of 2011, he averaged 58 in 10 matches, scoring at a run a ball. The following winter, he averaged 50 in nine matches and while he scored a little bit slower, he made a couple of hundreds and three fifties. Worth his place in the side? Absolutely.
Seems a long time ago, doesn't it? It was. In his last 20-odd matches, he's made one fifty.
Maybe he got found out. When Cook took over as captain and made all those runs, he still did it in a rather limited way. His new 'expansive' game seemed to hinge almost entirely on the slog-sweep to cow corner.
At the time, we described his use of the shot as being like when a bad husband repeatedly brings flowers. It seemed little more than an apologetic gesture designed to distract from major shortcomings. It was odd that it worked, but even the most flower-loving wife will see through such a shallow ruse eventually.
The menu
Unsurprisingly, opponents have taken the slog-sweep off the menu. They're serving up off-spin in the first over instead. Cook doesn't appear to like the taste.
Cook has a place in Test cricket's All-You-Can-Eat Hall of Fame, but he's picky. He doesn't like mushrooms 'because they're slimy' and he won't eat anything with bones in it. You need to have broader tastes in one-day cricket. You need to eat everything because there's only a finite amount on offer.
Test cricket involves endless courses, so you can pick at dishes you don't like and gorge on those you do. One-day cricket is more of a taster menu. Miss out on anything and you risk going hungry. In the last year, Cook has basically starved.