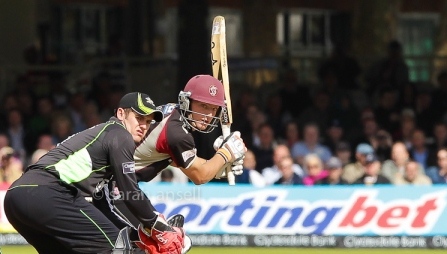 If you write for a proper newspaper, reporting on county cricket is largely about identifying the English player who did best on the day and then saying that he's going to get a national call-up before too long.
Yesterday, we read a comment from Jos Buttler's coach at Somerset, Andy Hurry, who said of the 20-year-old:
"He knows his game inside out, knows where he wants to hit boundaries. His one day game is nailed on."
Buttler then hit 94 off 56 balls against Nottinghamshire. That would be evidence enough for some to say that he must be 'knocking on the door'.
Here at King Cricket, we work differently. We grab Jos Buttler by the shoulder and say: "Woah there. Hold your horses. Step away from the door. You've pushed in here, mate. Don't you understand queuing."
Having led him back to the waiting room, we sit him down and point out the following issues that need addressing.
His first name
His surname
The first name will be the easiest to solve. 'Jos' is short for 'Joseph', but that spelling is confusing. If it rhymes with 'dose' then he'll have to work something out. 'Jose' implies 'José' but 'Jos' is unacceptable, so he's got to act. The easiest solution would be to just accept the obvious and become 'Joe' – now there's a name you can set your watch by.
His surname though. Why does everyone love adding consonants to normal names these days? Think about former England bowling coaches Allan Donald and Ottis Gibson. What's with these people?
There's also the matter of him scoring eight and 10 against Lancashire and having a first-class average of 28, but he can address that easily enough once he's sorted out the important stuff.