< 1
minute read
This is the quite unbelievable watch that Kevin Pietersen wears.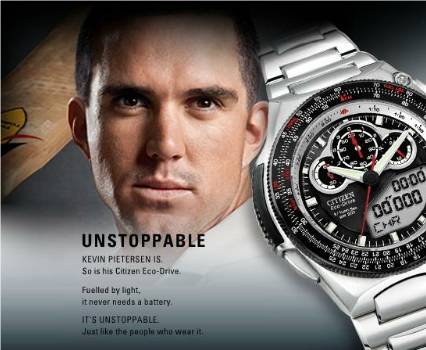 You'll never have seen him wearing it, because he doesn't wear it when he does what he's good at (cricket). He wears it when he's being a normal person who's in no way exceptional.
This is a watch for when talented people are being rubbish like the rest of us. It's the timepiece equivalent of Clark Kent's glasses. This watch is the very symbol of adopted mediocrity.
However, at least it is 'fuelled by light'.
"Its revolutionary Eco-Drive technology harnesses the power of light and converts it into energy which is stored in a permanently rechargeable battery. It recharges continuously in any kind of light to run forever. Put simply, a watch that never needs a battery – simply unstoppable, like KP."
Or alternatively: It's solar powered.