2
minute read
Bert writes:
This website has a number of obsessions. Cricket is one, obviously, but there's cats and fat cricketers and ankylosing spondylitis and all sorts of other stuff. And there is the apostrophe, with particular reference to the correct use thereof.
The thing is, I don't think this is especially unusual. The link between cricket and punctilious punctuation, that is. There is something about cricket, its atmosphere and culture, that makes it a suitable place for those of us who care about such things. Next time you're at the cricket, ask the person sitting next to you if correct apostrophe use matters – it's very likely that you'll get an affirmative response.
I found myself at Lord's the other day, taking the kids on a tour of the ground. It occurred to me that I could confirm, or possibly refute, my hypothesis on apostrophes while I was there. I mean, one would expect that the Home of Cricket would also be the Home of Correct Apostrophe Use. So I paid particular attention to this as I took the tour.
Let's start with something simple – the straightforward adding of a possessive s to a singular noun.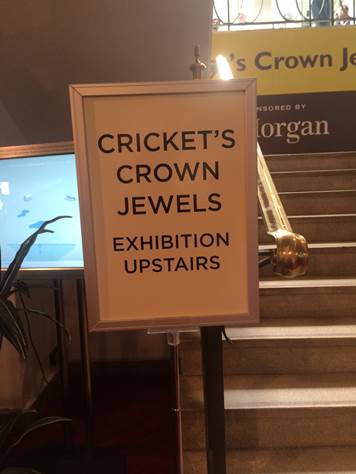 Yep, no problems there. In fact, the eagle-eyed among you will have noticed that the same correct usage is repeated at the top of the stairs. Well done the MCC. Now, what about plurals?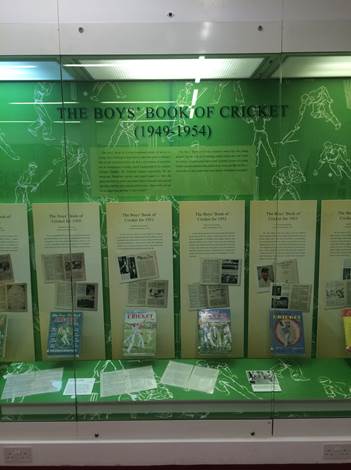 Ah, exemplary. How many boys? More than one, I'll be bound. You'll have to take my word for it, but that same perfection is repeated on each of the display boards in the case. As you might imagine, the children and I spent several happy minutes at this display, bathing in the warmth of the calm, confident typography of the English cricket establishment. Marvellous stuff.
Of course, the name of the place itself – Lord's – has an apostrophe, indeed one that might trap the unwary user. So how does the MCC get on with this trickiness?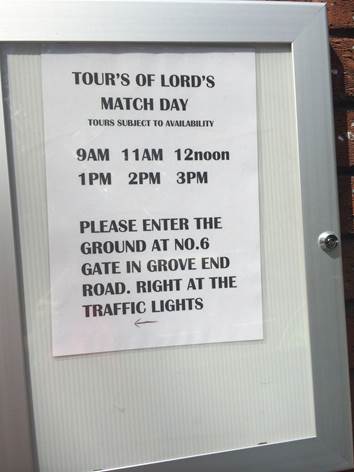 Perfectly, of course. We shouldn't have expected anything less.