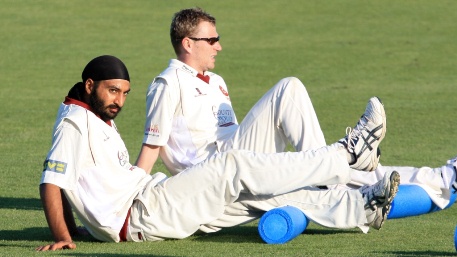 It's been three years since we last went to the Old Trafford Test and didn't see Monty Panesar take five wickets. Actually, that's not strictly true. We went to two days of last year's West Indies Test and on one of the days he only took four wickets.
In 2006 we were at day three when Monty got five of Pakistan's top six batsmen. We've never experienced such affection for a cricketer from a crowd as we did that day. It was sky-high from the outset and with every subsequent wicket, it went up a notch.
Affection didn't end five notches above the sky when he polished off the West Indies last year on day five, but it can't have been far off. After four wickets in the first innings, Monty took 6-137 in the second innings and England won.
Yesterday there were six further sightings of the Monty Panesar celebration. When England had lost six wickets in the first hour, we'd mentally prepared our tirade about how England's bowlers had lacked the same killer instinct during the Kiwis' first innings.
That update won't be appearing on King Cricket after Panesar lacerated their second innings, taking 6-37 as New Zealand stumbled to 114 all out. Monty would surely have bagged seven but for Daniel Flynn's absence.
The 25th over was his finest. Panesar pinned Marshall on the back foot with his first ball before nearly getting McCullum with each of his next two deliveries: an lbw shout and a turning lifter which had a Curtly Ambrose delivery for a mother and a Shane Warne leg break for a father. McCullum swept wildly at the next ball and was lbw.
McCullum looks frazzled when he faces Panesar right now. In the first innings, he slogged him for a four and a six off consecutive balls, but Panesar got him in that same over. In all, Panesar's taken McCullum's wicket six times in ten innings and if he carries on like this, things aren't going to change.
Monty Panesar has now taken 25 wickets in three Tests at Old Trafford at an average of 16.72. Unfortunately, he won't be adding to that record for at least another three years. But that's a different update. One that might appear later in the week.
England v New Zealand, second Test at Old Trafford – day three
New Zealand 381 all out (Ross Taylor 154 not out, Jamie How 64, Kyle Mills 57, James Anderson 4-118)
England 202 (Andrew Strauss 60, Daniel Vettori 5-66, Iain O'Brien 3-49
New Zealand 114 all out (Monty Panesar 6-37)
England 76-1