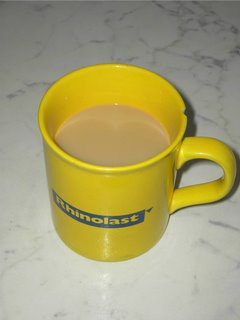 We made ourself a cup of tea this morning, we started drinking it and then we went upstairs for a bit. When we came back down, the mug was empty. No-one else was in the house.
We know what you're going to say. You're going to say that we were half-asleep, drank the tea and either didn't notice or forgot.
Well you're wrong.
We have a finely tuned internal measurement system and we KNOW when we've finished a cup of tea. If we drink half a cup of tea first thing in the morning, we're half a cup out all day long. We drink the first half of every subsequent cup, but then we feel like we've finished and stop. Only when we're in the mood for our next brew do we realise our error, at which point we have to drink the remaining half a cup of cold tea (because you can't leave it).
So what happened this morning? We'll tell you what happened.
WG Grace's ghost drank our cup of tea. That's what happened.
Think about it. If you were WG Grace, wouldn't you come back from the dead to see the last couple of matches of this season's County Championship? Of course you would. And wouldn't you really fancy a brew when you arrived? Unquestionably.
The County Championship is putting everyone in danger. There are ghosts in our midst. And they're drinking our beverages.