< 1
minute read
Pretty sure propaganda has to be clearly labelled as such in order for it to be properly effective.
In the comments on our last post, Ceci suggested that the Pakistani batsmen believe what they read. With that in mind, we'd like to put this site forward as official Pakistani cricket team reading matter.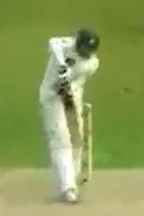 Wrong language and all that, but never mind.
At one point in yesterday's play, Salman Butt brought his bat inside the line of a James Anderson outswinger. Some experts were moved to comment that it was the finest leave they'd seen since Sunil Gavaskar against Garry Sobers in the fifth over of the first innings at Port of Spain in 1971.
This Pakistani batting can be quite exceptional at times.