2
minute read
I hadn't been feeling terribly well, having been off work for a couple of weeks with an ear infection, but had arranged to meet a couple of friends in London on the afternoon of the first day of the series.
It was very cold. I think it was snowing. I had a green hat on, and a scarf and fingerless mittens. We met under the clock at Waterloo. There were only two of us, so we adjourned to the pub in the station to wait for our third.
It can't have been long gone 12pm but I decided to have a pint, knowing full well it would lead to a slippery slope.
I soon needed to visit the lavatory, but found the door shut and a security lock fixed to the outside. I turned to leave and an old man sitting in the corner told me the combination. I felt very privileged.
Our third member arrived and the pub began to fill with loud snotty city types on their lunch break. So we left.
One of my friends was developing an interest in mini golf so we headed to Devonshire Square, a temporary mini golf course near Liverpool Street.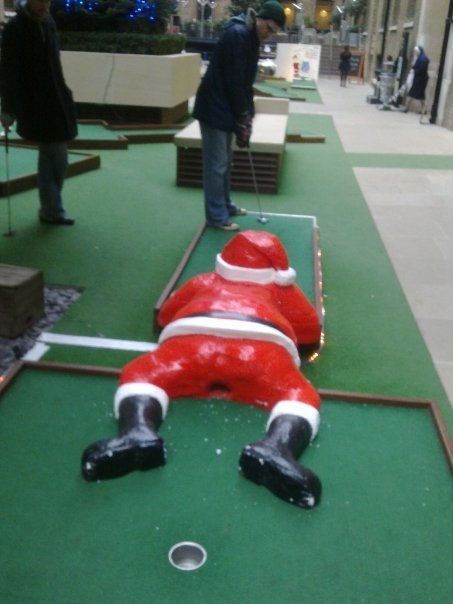 We had partaken of different courses a few times before and I'd never been any good, but on this particular day I played an absolute blinder. Everything I hit went in. It was the second greatest sporting moment of my life. The greatest involved a pub in Essex, a pretty girl and some darts. But that's another story.
After the golf we had some chips in a pub and decided we fancied some football. So off we went to White Hart Lane for Tottenham v Manchester City.
We were a bit early and we wanted more food. We walked up and down White Hart Lane itself looking for an Indian restaurant, but settled in the end for Turkish and then went to the game.
It was still very cold. I think Spurs won 3-0. It wasn't the most amazing game I've ever seen. But it was ok.
Send your match reports to king@kingcricket.co.uk and on no account mention the cricket itself.