3
minute read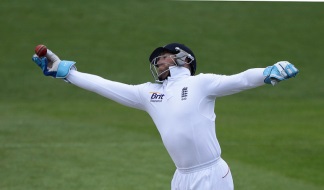 Perhaps it's mankind's predisposition towards seeing the world in terms of stories that has resulted in there being so much emphasis on the latter stages of Matt Prior's career. Stories build towards an ending, so we tend to think that's the most important bit.
Such a way of looking at things is almost always unfair on a cricketer and especially so in Prior's case where a few months not fully fit during which he also suffered a relatively short-lived falling out with a team-mate paint an unflattering picture.
Let's deal with the Kevin Pietersen thing first
If only to get it out of the way. Weirdly, we've always closely associated the two men because they were the standout players from an A tour to India way back when. For the most part, they got on okay. It's worth noting that many of the older events recounted in KP's book have been recoloured as a result of their subsequent falling out. It was really only quite recently that things went awry.
One of KP's biggest gripes seems to be that Prior was somehow big-headed, as proven by the fact that he referred to himself as 'The Big Cheese'. Prior's always been known as Cheese, but as we always understood it, this wasn't because of some sense that he was kind of a big deal, but because of a tendency to look like this.
Maybe the nickname evolved a little over time, but if you missed the subtleties, didn't quite appreciate the cultural concept and maybe weren't all that inclined towards self-deprecation yourself, maybe you could have got hold of the wrong end of the stick and subsequently decided to beat him with it.
Declaration batting
Many England fans who really warmed to Prior did so because of how he batted when England were looking to declare. This is no 'yay, boundaries!' thing. It was something deeper than that.
When it comes to upping the run-rate ahead of a declaration, many batsmen are only too delighted to have an excuse to go for glory. Attempting to hit sixes is a somewhat self-indulgent form of selflessness – almost a win-win.
Prior's approach was different. He would look to increase the run-rate by any means he could, including through near-suicidal running between the wickets. Although you're working towards the same end, there's no glory in a quick single or a scampered three. Caught at long-on is glorious failure, but when you're run-out, you always look like a div.
The stats
Prior sneaks out of Test cricket with an average of 40.18 allied to a very good strike-rate of 61.66. Pietersen's, weirdly, is 61.72. (Is there nothing these fast-scoring South Africa born England middle-order batsmen of similar vintage don't have in common?)
Hundreds-wise, his match-saving second innings 110 not out against New Zealand in 2013 was probably the most significant, but we'll always retain a soft spot for the cruelty of his 118 at the SCG in 2011. Batting at number eight and with England already ahead, the runs weren't really needed – but he got them anyway and in brutal, demoralising fashion. He helped England win that series in style.
However, what we'll most remember is some kind of fictional distillation of his career. England are good; England are ahead; Prior cuts a short one at a million miles an hour straight towards a boundary fielder but somehow still runs two, diving for his crease to complete the second. Shortly afterwards, England declare and they go on to win easily. The end.