11
James Tredwell brings more wonders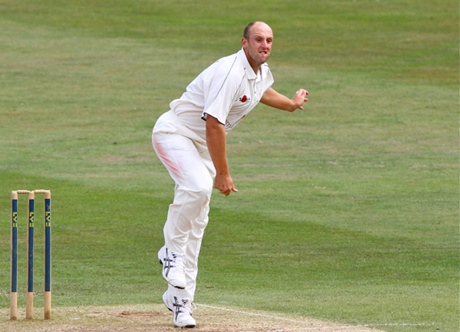 When England won a Test series in India, we felt moved to ask: "Will wonders never cease?"
It wasn't a rhetorical question, so in light of England winning a high-scoring one-day international in India, we now have an answer: WONDERS WILL NEVER CEASE.
England don't do high-scoring one-day matches well. If they think they're threatening 300, they tend to assume that they're playing irresponsibly and so rein themselves in. Watching SamPat thock the ball with abandon at the end of the innings, we felt convinced that 325 wasn't enough.
We hadn't banked on the wiles of James Tredwell, however, who was so effective that we feel moved to call him 'James Playedwell'.
No-one would really have anticipated that India's gameplan would be to see off James Tredwell and then cash in against the other bowlers. Certainly no-one expected them to fail at the 'seeing him off' part. Tredwell took 4-44 off his ten overs and in a match in which both sides passed 300, that's really rather handy.

You really should subscribe to our email updates - here's why
Top Trumps that you can actually play
, unlike our version - current price, 1p
SamPat? PlayedWell? This is what happens when you write two posts in a day – you are forced to resort to awful puns to get your point across.
Okay, maybe the first wasn't a pun exactly. BUT THIS ONLY MAKES IT WORSE.

sampat is a South Indian name. Samit Patel is of Western Indian origin. Poor pun. Just saying…
Our SamPat
Is quite nifty with a bat,
He can run in a circle
As fast as a cat
And when he gets hungry
He takes off his hat.
Sun-packed,
Fun-packed,
Our SamPat.
Fools 'raj Singh where angels fear to Tredwell.
In every article written about him, Tredwell's name is preceded by the word 'wily'. Henceforth, James Playedwell will suffice.
Awesome wordplay much appreciated – more please.
I think that's "willy" not "wily, and referring to the penile sihlouette of his bald head.

Wow, that was some terrible spelling and punctuation on my part.

I wouldn't try to spell or punctuate on my part, Tybalt, that sounds extremely painful and masochistic.

The adjective "wily" used to be reserved for subcontinental spinners, such as Abdul Qadir, Murali or even, more recently, R Ashwin:

http://www.guardian.co.uk/sport/blog/2012/nov/17/england-india-wily-bowlers-first-test

But since Mumbai in late November, it is England's spinners who are wily. Amazing.
At last! 3 overs and a cameo 44! Proof Samit isn't a bits and pieces cricketer.
His expression in the picture is one of a man attempting to dislodge the bails with his large intestine.