2
minute read
Send your match reports to king@kingcricket.co.uk. We're only really interested in your own experience, so if it's a professional match, on no account mention the cricket itself. (But if it's an amateur match, feel free to go into excruciating detail.)
Regular King Cricket contributor Ged Ladd writes…
For the first time in years I returned to the nets at the Lord's academy. On this occasion, with Amal.
Amal is of Sri Lankan origin; his lengthy surname has many As, Ys and Es. Let's call him Amal Alleynsalumayearaheadame. That's not his real name, obviously. It would be some coincidence if it were.
Amal was a year ahead of me at Alleyn's School in the 1970s. His claim to fame, when representing the school as an under-13, was not his notable top score of 46. Oh no. Amal's astonishing achievement for the school at that age was carrying his bat as an opening batsman… scoring 0*.
That 1974 scorecard would be a fun read.
Amal and I met recently at an Alleyn's alum dinner. We hatched a plan to return to the nets for the first time in yonks; in my case years, in his case decades.
Daisy stopped by at Lord's for a quick game of fives (long story) and then took some pictures from the back of the nets. A passing coach asked her to retire to the balcony for safety reasons.
"You never know where or how hard the ball might go," explained the coach. Daisy was pretty sure she knew, but still withdrew.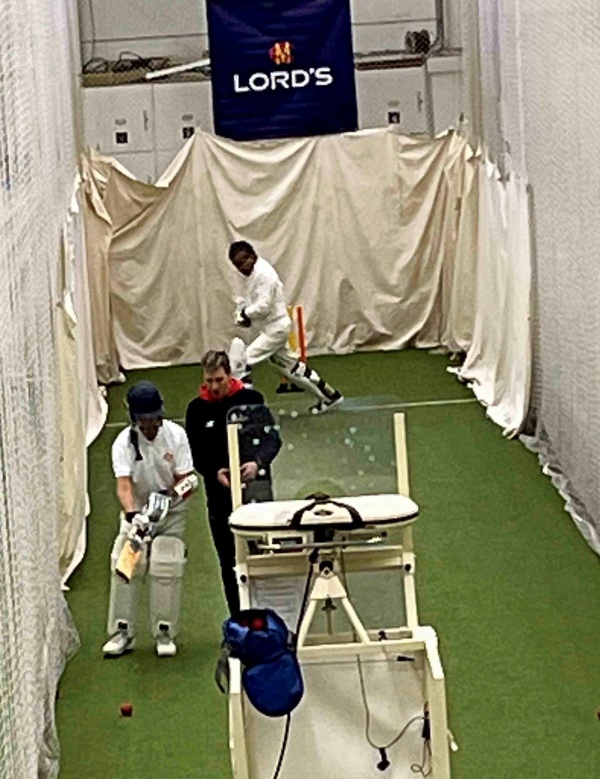 Our coach was Neil Durand, a Lancastrian (Merseysider) by origin. He admired my ability to block the ball, but wondered whether I have any scoring shots. (Not really).
Amal was a bit rustier than me, at first, offering me plentiful opportunities to test my umpiring skills, adjudging LBWs.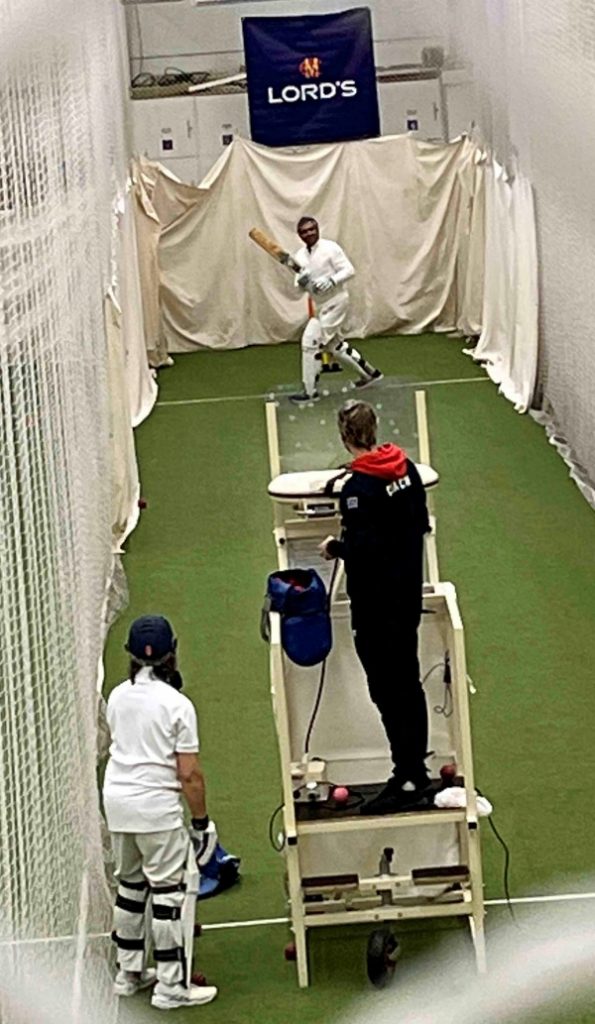 Daisy soon decided that the Lord's Academy is ridiculously cold if you aren't participating, so went home.
I continued to block like the sort of geezer who might carry his bat for 0*, whereas Amal, who IS (or at least was) such a geezer, started to play some impressive scoring shots later in our hour.