3
minute read
Miriam et al. report from Greece where they witnessed the television coverage of England's not-at-all fictional win over New Zealand first-hand.
If you are thinking of sending a match report, consider this confirmation that not only does the report not have to be timely, it also doesn't particularly matter if you weren't there.
Anyway. The report:
After moaning about how we couldn't find cricket on the radio, we found a bar that would show cricket so long as it didn't interfere with the football or rugby. On match morning, we rocked up at 11:23am local time, expecting a breakfast of beer and bar-snacks. To our surprise and delight, the bar served proper breakfasts.
We had omelette and chips. There were eight omelettes on the menu and the four of us each had a different omelette. The barman commented that next time we could perhaps order the other four omelettes on the menu. We weren't sure whether he was making a joke, or whether he was annoyed that we had put them to the trouble of making four different omelettes.
During the match, we consumed the following between us: two filter coffees, one latté, five glasses of "fresh" orange juice (there was another, presumably non-fresh orange juice on the menu, but we didn't risk it), and two glasses of sparkling water.
The bar TVs had pictures but no sound, so instead of insightful commentary we were treated to the kind of saxophone muzak that used to accompany pages from Ceefax (but this did resurrect happy memories of checking the cricket score as a child). This culminated, in the final nailbiting over, with the theme tune from Cagney and Lacey.
Because of the music, we had to guess at what each new batsman's favourite shot was. The only one we could even begin to make out was Paul Collingwood's nurdle off the pads. We also couldn't hear any of Rob Key's words of wisdom during the break, but we noted that he had chosen an all black outfit to wear. We hoped that this was for its slimming properties and not subtle support for the Kiwis.
That evening we went to a cocktail bar and recreated cricketing scenes using only the items that came in or with our cocktails – and we were strict about this. I therefore attach a picture of Kevin Pietersen's run out in the South Africa match: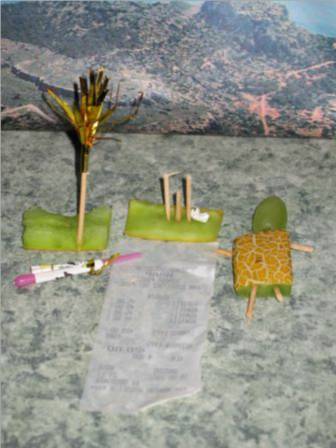 You will be able to make out the crease (our drinks receipt), KP (piece of melon, cocktail sticks, a grape for his head), the stumps, his bat, and that's Shaun Pollock (not a palm tree) to the left. The Shaun Pollock "hair" strands were much longer, but I bit each of them down to a more realistic length. This was horribly time-consuming but once I'd started there was no going back, and it's important to maintain absolute accuracy in these things.
We had had quite a few cocktails by this point. From Katie, Katy, Carolyn, and Miriam.
This isn't really relevant to the report. I also attach a picture of a Colossus (of Rhodes, not Scott Styris), also made from cocktail accoutrements: