Rubbish. Okay, that's a bit extreme. How about 'worse than its predecessor'?
The graphics are better, but still bad. The whole point of this update is the presentation (nothing else has changed) so it's hard to ignore. Before, they hadn't made any effort, so you overlooked the rough appearance.
It's like when someone's bought some ridiculous new glasses to replace a broken pair. They looked stupid before, but now it's as if they're actively making a point of looking like a dick.
Look: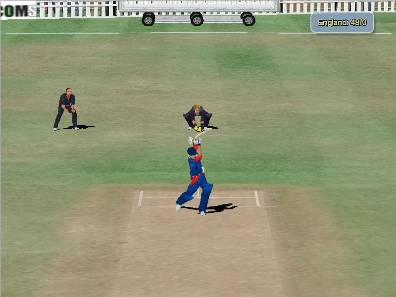 Rubbish.
And what you can't tell from that screenshot is that each animation takes longer than the previous 2D version. You only watch the highlights to get an idea of what's going on. Highlights aren't the game. Highlights just keep you from the game. So the 3D highlights keep you from the game longer.
Oh and they're jerky and hurt your eyes too.
Play the free Cricket Captain 3 demo, if you don't believe us.
Don't get International Cricket Captain 3. Get International Cricket Captain 2
or International Cricket Captain 2006
or whatever the hell it's called. It's only seven quid and it's still the best cricket game available until they bring out one with more statistics than the entire history of the Wisden Almanack.